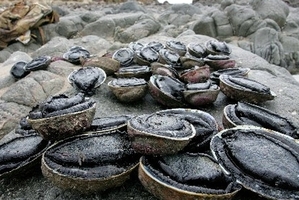 A paua poacher has been sentenced to 11 months in prison after being caught with over 10 times the daily paua limit.
Day Van Tang, 30, was found guilty in Nelson District Court yesterday after he was caught with two sacks containing 139 paua, most of which were undersized.
Tang admitted knowing the daily limit and said he did not measure any of the shellfish, Ministry for Primary Industries Nelson/Marlborough District compliance manager Ian Bright said.
The court also banned him from fishing for three years, and the vehicle and gear used in the offending were seized.
Tang was caught following a paua hunt with his brother, Hanh Tang, at a secluded spot on the Kaikoura coast in July last year, Mr Bright said.
Fishery officers apprehended the pair as they were returning to Nelson following a tip-off from the public. Hanh Tang was fined $2000.
Mr Bright said he was pleased to see the courts sending a strong message that this kind of blatant poaching would not be tolerated.
"This isn't the first time [Day Van] Tang has been in front of the courts for offences involving paua and it goes to show that the message simply won't get through to some people. I hope he takes the time to reflect on the foolishness of his actions. He has a long while to do so," he said.
In 2010 Tang was imprisoned for 12 months after being convicted on 10 charges including selling, taking or possessing paua to obtain a benefit.
- APNZ