Half-an-hour earlier couple decided it was too risky to stay on board trimaran tied to a wharf in Bundaberg.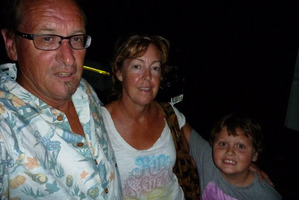 A Kiwi family managed to escape just minutes before the boat they were in - their home - was swept down a raging river in Queensland.
Matt Cox, wife Lynne and their 8-year-old son Alex could do nothing but watch as their trimaran was taken down river with other vessels caught in flood waters.
Just half an hour earlier the family had decided to abandon their boat.
"It's just so hard to watch it go past. Something you worked hard on, knowing you have everything in there - my wife's mother's ashes were in there - just gone."
The family's boat, named Osho, had been tied to a wharf on the Burnett River in Bundaberg.
Conditions began to get bad late on Saturday night and at around midnight, the couple decided it was getting too risky.
"We woke Alex up and I don't know why, but Lynne thought to put a few things in some bags before we got off.
We just had four shopping bags of clothes and for some reason she also grabbed Alex's PlayStation.
"I'd helped Lynne and Alex get off - by then the water was just around our ankles. I went back to get the rest of the bags and I was having to put them on my head, my hands up, because the water was up to my armpits."
Mr Cox said he feared for his life at that point and regretted going back on the boat.
"I actually slipped and for a second I thought, 'Right, this is it. You idiot, why did you have to come back.' Luckily I got my footing right again and made it to land. I wasn't allowed back to the boat again."
The family are uninsured and are amazed at the generosity of people, including complete strangers.
"I tried to pay for some coffees today and the guy just said, 'nah, you've been through enough, don't worry about it'," Mr Cox said. "I haven't had a cry yet, but that got me blubbering. I had to turn away from him."