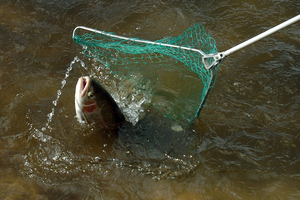 Bosses are being warned to brace for an outbreak of 'piscatorial disorder' ahead of the new trout fishing season, which opens in almost all areas tomorrow.
In a light-hearted statement, Fish & Game said the syndrome annually affects thousands of anglers, with symptoms including loss of concentration, nervousness, insomnia and, in extreme cases, absenteeism from the workplace.
"The good thing is symptoms usually clear up within a few days of time spent on a river or lake," said spokesman Grant Dyson.
"Though piscatorial disorder, or PD, is known to flare up again at any time throughout the fishing season."
The trigger is always long periods spent indoors, especially in the office environment, he adds.
Mr Dyson said those who are struck down should do the right thing by their employer and arrange for a day's annual leave or time off in lieu, or negotiate some way of making up the hours.
Fish & Game officers around New Zealand hope the mild spring will translate into good turnouts for opening day.
It urges anglers to visit fishandgame.org.nz to check the regulations that apply to the spots they intend to fish.
Not all South Island waterways open tomorrow. The Canterbury High Country Lakes and tributaries along with the Otago Back Country fishery are a few which don't open until November 1.
- APNZ