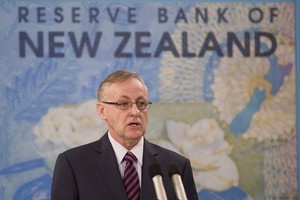 Last Saturday's Christchurch earthquake means the Reserve Bank is now unlikely to raise the Official Cash Rate (OCR) again until next year, ASB economists say.
ASB had been picking the Reserve Bank to sit tight both next Thursday, September 16 and on October 28, but to resume hiking on December 9.
"Prior to the earthquake, we expected the Reserve Bank to pause at both the September and October meetings, but it is now likely the Reserve Bank will remain on hold until early 2011," ASB economist Christina Leung said.
"Aside from greater uncertainty caused by the earthquake, confidence is likely to be more fragile in the short term. However, the OCR will eventually need to start rising and, with third quarter Gross Domestic Product released in late December, January (27th) is likely to be the first 'live' meeting for the Reserve Bank to consider an OCR increase."
The central bank lifted the OCR at both its last two reviews, in June and July, by 25 basis points each time taking it to 3 per cent.
Leung said it was clear from the July OCR Review Statement that recent economic data hadn't lived up to the Reserve Bank's optimistic forecasts.
"Added to that, there is increased uncertainty over the growth outlook stemming from the United States and China. The recent Canterbury earthquake only serves to reinforce our expectations of a September meeting pause, given uncertainty over the net effect of the earthquake on economic activity and the potential for greater business fragility," said Leung.
Furthermore, data indicating inflation pressures in the domestic economy was subdued in the short-term meant the central bank should see little urgency to raise the OCR.
"Indeed, Reserve Bank Governor Alan Bollard noted in a recent speech that the Reserve Bank was 'comfortable' with the inflation outlook," said Leung.