Do you know more? Send your story, photos or videos here.
Anguished owners of belongings stored in a Wellington storage unit razed by fire this morning have gathered at the scene of the blaze to learn the fate of their possessions.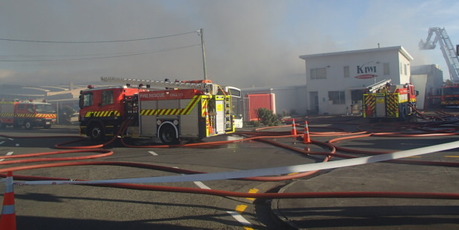 Central fire communications shift manager Jan Wills said the fire broke out at the Kiwi Self Storage facility in Kilbirnie's Rongotai Rd, near Wellington Airport, around 12.45am.
It was classified "fifth alarm" - the most extreme end of the Fire Service's response scale.
Wellington Fire Service assistant area commander Paul Smith said they were waiting on heavy machinery to open up the unit.
There was a danger the top storey unit would collapse down to the bottom storey, which so far hadn't sustained fire damage, he said. "It's just too dangerous to get our crews near there now."
Firefighters had attempted to pull back the roof, but the heat had beaten them back.
Temperatures could reach up to 1000 degrees Centigrade inside the building, he said.
It was still not known what was being stored in the units and emergency services were urging nearby residents and businesses to close windows and doors and stay inside.
If anyone was concerned for their health they should call an ambulance, Mr Smith said.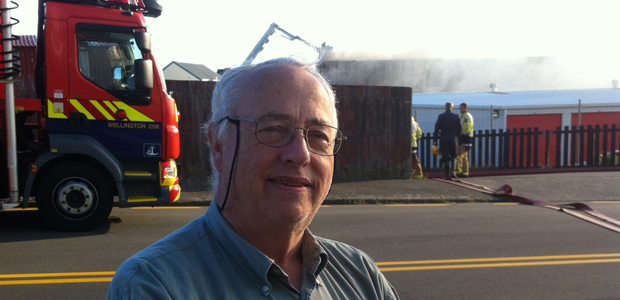 Alex Funke. Photo / APNZ
A cinematographer who worked on Sir Peter Jackson's Lord of the Rings trilogy, Alex Funke, feared a couple of Oscar awards have been lost in the blaze.
"Where that smoke right there is," he said, pointing to the unit most damaged.
The awards were for the Two Towers and Return of the King.
Mr Funke believed the Academy would be able to replace the awards.
"But it's not quite the same thing is it."
He said there were also some Bafta awards in the unit.
"But more important is all my camera equipment that was in there."
He did not realise the units did not have sprinklers until today.
Mr Funke didn't know how much the items were worth but "a great deal of personal value".
"It's very upsetting, you put stuff in a storeroom and you say 'Well, it's safe, nobody's going to steal it, it's never going to burn down' - well obviously next time put it in a place with sprinklers."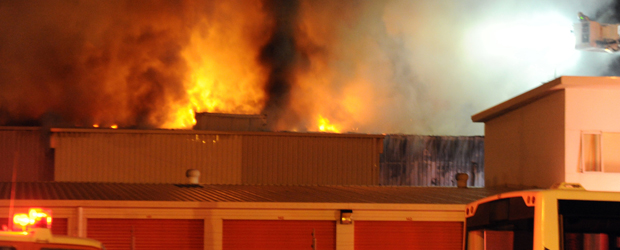 Photo / SNPA / Ross Setford
Martin Cahill said he had some boxes of books and items that belonged to his parents inside the storage facility. "I just want to find out how it started."
His items were at "ground zero" and would be completely destroyed, he said.
Chris Vee, who owns a bridal store in central Wellington, said she had all her stock in one of the storage units.
She had yet to learn whether the gowns were damaged by the flames, but they would be almost definitely smoke damaged she said.
No neighbouring properties were threatened by the fire. There were no reports of anyone being in the building, however a fire fighter had been treated for minor heat exhaustion, Ms Wills said.
The origin of the blaze and how it had spread so quickly was unknown.
Neighbour Tere Harrison said she was woken by sirens about 1am. She said she wasn't too worried about the flames, however her house overwhelmingly smelled of smoke.
Many units contained classic cars, she said. "I don't know the owners, but we see them drive out every weekend."
'We're in defensive mode'
"We're in defensive mode - that means the guys are on the outside basically using aerial appliances putting some water on the fire," said Mr Smith.
It was a complex job with a large number of combustible material and passageways, he said.
"The guys have had a lot to deal with and they've done a really good job so far."
Everything inside the affected units was destroyed, he said.
A fire investigator was at the scene, but would need to wait until the last flames were extinguished before being able to get near the unit, "which could be some time yet", Mr Smith said.
About 80 firefighters are working on containing the fire, he said.
"We'll be here probably for the rest of the day at least."
It was the biggest fire Wellington had seen for a long time, he said.
A Wellington Airport spokeswoman said the fire had not affected flights.
Onehunga fire
Meanwhile, a fire at an Auckland warehouse overnight also received a strong response from the Fire Service, with 15 engines and 65 fire fighters battling the blaze at its peak.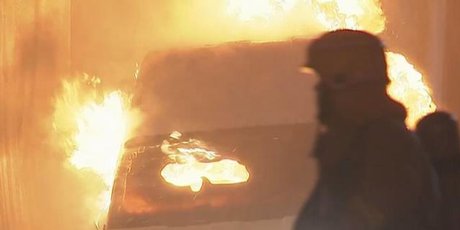 Northern fire communications shift manager Colin Underdown said the fire, in Onehunga's Alfred St, was reported just after midnight.
The fire, at the 100 metre by 20m building was "well involved on arrival", he said.
"We had multiple calls to it, there was lots of flames showing when they arrived."
It was unknown what the warehouse contained and the fire did not threaten neighbouring buildings, Mr Underdown said.
No one was believed to be in the building when the fire broke out.
The blaze had since been extinguished, and one truck remained at the scene on stand-by, he said.
Fire investigators would be trying to ascertain the cause of the fire later today.
- APNZ