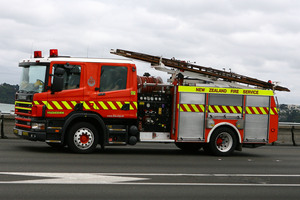 Christchurch is to get seven new fire stations in a $50 million 10-year project aimed at meeting the needs of the post-earthquake city.
Three stations - in the central city, Addington and Woolston - will be demolished and rebuilt on existing sites, with the others in new locations serving suburbs in the east of the city, the southern corridor, in the north-west and around Ilam.
The Fire Service will also retain a central city station, basing senior regional managers in the planned Justice and Emergency Services Precinct.
The major redevelopment project will not result in any reduction of fire stations, fire engines or firefighters or staff.
The ambitious project, to be completed over 10 years, was announced by Prime Minister John Key and senior Fire Service officials today.
Fire Service national commander and chief executive Paul Baxter said a team led by the recently appointed Fire Region 4 manager Brendan Nally recommended the new seven-station concept.
"The proposed seven-station solution will allow us to contribute more effectively to safer communities in Christchurch," he said.
Mr Baxter said the Fire Service was operating from a number of temporary sites since the 2010 and 2011 earthquakes and now had a "unique greenfields opportunity" to site stations where they would best meet the needs of the community.
"We will be able to better match resources to risk and align our station network to future transportation, infrastructure and demographic changes in the city," he said.
"The population has shifted dramatically as a result of the earthquakes, our fire stations were badly damaged and the Fire Service is expanding its role in society so the timing of this redevelopment project is pivotal."
Mr Baxter said the Fire Service also considered it important to "underline its commitment to the redevelopment of the CBD" by confirming it would maintain its central city station as well as its partnership in the Justice and Emergency Services Precinct.
The Christchurch urban fire district currently includes stations in Harewood, Addington, Sockburn, St Albans, Woolston and the central city.
The review also included volunteer brigades at Brooklands, Kaiapoi, Rolleston, Lincoln, Sumner Lyttelton and New Brighton.
Mr Key said there was "always a lot happening in Christchurch" and the city was an "exciting place to be".
"This is a really important milestone for the Fire Service and Christchurch," he said.
"We all rely on the Fire Service. They do a tremendous job."