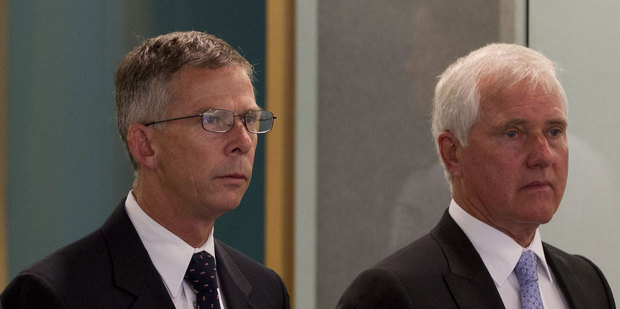 The trial of three men associated with the collapsed firm Dominion Finance will restart today after the High Court judge who was originally hearing the case stood down last week.
Former Dominion Finance director Robert Barry Whale, former chief executive Paul Cropp and a man with name suppression have pleaded not guilty to charges of theft by a person in a special relationship.
The men pleaded not guilty when their trial started last Monday when the court heard how the men allegedly entered into a number of related-party transactions and knowingly breached requirements of the debenture trust deeds of Dominion Finance and sister company North South Finance.
After one and a half days of opening statements and evidence - including the property development woes of former rugby league star Matthew Ridge - Justice Pamela Andrews disclosed that she and Whale were both partners of top-shelf law firm Kensington Swan at the same time.
After the judge informed the courtroom of this, Cropp's QC John Billington made an application that a mistrial be declared or Justice Andrews recuse herself from hearing the case on the grounds of apparent bias.
After considering the matter, Justice Andrews stepped down from the trial on Wednesday morning:
"I have concluded that I should take a cautious approach. Notwithstanding that the legal partnership ceased in 2001. Any legal partnership requires between the parties trust and good faith. For that reason I have concluded that I should not continue to try the case," Justice Andrews ruled.
The trial now begins before Justice Graham Lang later this morning, with Crown lawyer Brian Dickey making some brief remarks to the judge.
The evidence of Ridge and that of a property developer who took over his troubled Remuera apartment complex which was presented to the court last week had been read by the judge already.
However, former Dominion Finance risk manager Martin Sweetapple - who told the court last week he considered whistleblowing on some activities at the firm - will give his evidence from scratch today.
The trial, brought by the Serious Fraud Office, is expected to last four weeks.