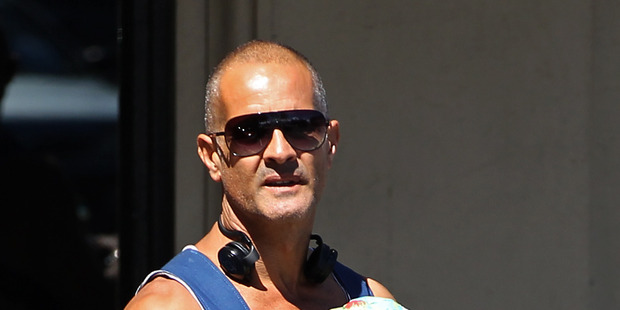 Matthew Ridge and baby, Ponsonby Rd, Auckland, in 2011. Photo / Herald on Sunday
Evidence from former All Black and Warriors' captain Matthew Ridge will be presented in the trial of three men associated with the collapsed firm Dominion Finance.
In a case brought by the Serious Fraud Office, former Dominion Finance director Robert Barry Whale, former chief executive Paul William Cropp and an accused with name suppression face charges of theft by a person in a special relationship.
Whale faces five counts for theft by a person in a special relationship while Cropp faces four, and the man with name suppression faces three.
The trio pleaded not guilty as the proceedings began in the High Court at Auckland this morning.
"All counts allege that the accused knowingly and deliberately breached requirements of one or other of the debenture trust deeds,'' Crown lawyer Brian Dickey said in his opening statements this morning.
A debenture trust deed dictates the terms and conditions between debenture holders (investors) and the company accepting the funds.
Some charges in the case relate to an alleged related-party loans made by Dominion totalling almost $14 million to a luxury Remuera construction project.
"Both of these loans were made to fund related parties involved a in problematic luxury apartment development located at 2 Bassett Road in the Auckland suburb of Remuera,'' Mr Dickey said in his opening statements.
Mr Dickey said in court this morning that the history of this development began in 2002 when Matthew Ridge's company, then named M3 Developers Ltd, purchased the land for the project with a $2.58 million loan from Dominion.
"The idea was to develop 11 luxury apartments on the land,'' Mr Dickey said.
"By late 2003 and early 2004, Mr Ridge was having major problems with the development. By 2004, the development was literally a big hole in the ground filled with water. By June 30, Bassett Road Ltd (another Ridge company) owed Dominion more than $6,000,000,'' the lawyer said.
Mr Ridge was looking to sell the development and approached Terry Butler and Brendon Wilson from Dominion inquiring about anyone who could buy it, Mr Dickey said.
Mr Butler, a Dominion director, then contacted another man, John Williams, to see if he wanted to purchase the development from Mr Ridge, the lawyer said.
Mr Williams did not have the money to purchase it himself but was prepared to take on the project because it was agreed it would be financed by Dominion, Mr Dickey said.
This happened through an entity Mr Williams fronted - Norfolk Manor Ltd. Norfolk was to be a joint venture in which Mr Butler would underwrite six units of the apartment project, Mr Williams would be responsible for two units and the other three units would be pre-sold.
In 2004, Dominion received an application for finance from Norfolk Manor for $6.6m and this was later accepted.
"The application does not contain any reference to a joint venture agreement,'' Mr Dickey said.
Mr Ridge then signed a sale and purchase agreement to sell the Development to Norfolk for $5m and the property title was transferred in August 26 on that year.
"Mr Williams did not negotiate the purchase price of $5 million with Mr Ridge prior to the purchase. The price was suggested by Terry Butler and he accepted it as part of the deal. Mr Williams did not even meet Mr Ridge until just prior to the sale and purchase agreement being signed,'' the lawyer said.
Ridge's evidence will be called during the proceedings, Mr Dickey said.
Because of difficulties the development ran into, Dominion made further advances to the Bassett Rd apartment project until it was completed.
By early 2008, Norfolk owed Dominion $8.7m, the court heard.
"Because of the joint venture agreement, this was clearly a related party loan in breach of the Dominion Trust Deed,'' Mr Dickey said.
"Whale was involved in preparing and reviewing some of the key documentation, approving the loan and witnessing the signing of the joint venture agreement,'' the lawyer said.
The trial continues.