Ben Crawford finds Denarau Island is the perfect destination for a fly and flop winter treat
Listen hard enough and you can hear Fiji calling out to New Zealand from across the Pacific every winter. The sun-drenched beaches, tropical waters and smiling faces flirt with New Zealanders through their rain-splattered windows and cloudy grey skies. A suggestive invitation that you struggle to get out of your head, until that's all you can think about. Eventually Fiji wins. It always wins. Okay, I'm on my way.
In my experience, our Fijian love affairs are usually along the Coral Coast or with the Yasawa Islands, leaving Denarau to pick up a night here and a night there on arrival or departure. I've always thought of it as a destination that's not appealing for an entire holiday - that it somehow doesn't provide a "proper" Fijian experience.
But I recently had a glorious getaway in Denarau and while it didn't have me at hello, it certainly had me by goodbye. It was just so easy, it was incredibly beautiful and it definitely Fiji-ed me from head to toe. In fact, a repeat trip for next year is already locked in. Only 30 minutes from Nadi Airport and offering a surprising array of day trips, it was the perfect fly and flop escape from our cooler climes and stress-inducing jobs.
If you've never been to Denarau or want to give it a second chance, here's what you can look forward to.
The hotels
Sofitel. Sheraton. Westin. Radisson. Take your pick of the five-star properties running the length of Denarau Island. We all deserve to treat ourselves and there's nothing nicer than a luxury resort to stay in. Denarau doesn't have the traditional postcard beaches but the hotel pools certainly make up for it. With poolside service and swim-in bars, what more could you ask for? I recommend starting with a couple of Fiji Golds after lunch, followed by a cocktail or two as the sun slips below the horizon.
The restaurants
Unlike other parts of Fiji where it's possible to feel "stuck" on your island or within a resort, resigned to the same restaurants every day, Denarau's hotels are packed with a variety of eateries. And you don't have to be staying in the hotel to eat there. We ate at a different restaurant every night - Cross at the Radisson was a particular favourite. Be sure to use the stunning seaside walkway connecting all of the hotels. The gentle amble back to your room provides a romantic end to a fantastic meal.
Port Denarau
It can get expensive eating at the resort restaurants for every meal. Port Denarau is just a short 15-minute walk or a five-minute ride on the Bula Bus and contains a whole host of casual dining options to satisfy your appetite.
As the name would suggest, it's also an active port and the departure point for many ferry services. Board a vessel for a day trip to one of the nearby islands and be sure to pack your togs because there's some fantastic snorkelling to be had in the crystal-clear waters.
Massages
Fijians have long used massage to ease aching muscles and release tension from the body. Every hotel has a day spa, which I unashamedly made use of by treating myself to a Bobo massage, a traditional healing treatment passed down from generation to generation. After plenty of thumbing, kneading and raking with well-practised fingers, hands and even elbows, I had a spring in my step and had left my knotted calves and tight hammies on the table. I've always been a bit of a massage sceptic, but not any more.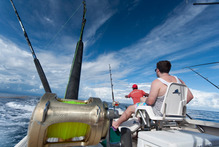 Boy time
If massages really aren't your thing, then leave your better half at the spa (you'll have to pay, of course) and head out fishing with the boys. Numerous game-fishing charters operate from Port Denarau, offering half-day, full-day and overnight trips. Alternatively they can take you to some of the best dive sites and surf breaks in the world.
If water isn't your cup of tea either then maybe the 18-hole championship golf course will get your wheels turning. Set in the heart of Denarau Island, the Denarau Golf and Racquet Club is a world-class course blessed with natural beauty and all of the expected amenities for a facility of this quality.
Sabeto hot pools
For something a little different and rustic, check out the Sabeto hot springs. The sulphur and minerals in the waters are thought to hold healing properties, making it a popular spot for visitors and locals alike.
However don't expect to find a five-star facility or you'll be disappointed. It's essentially three mud pools in a paddock. But Sabeto's lack of polish is its charm. The people are genuine, the scenery is beautiful and the mud is squishy, creating a unique Fiji experience.
• Ben Crawford paid for his own flights and Denarau holiday.