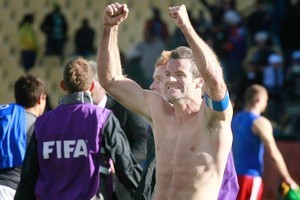 From Tiger Woods admitting infidelity to Alberto Contador blaming a piece of meat, 2010 provided plenty of sporting sound bites.
WORLD CUP SOCCER
"Skinny white boys doing the haka? Very intimidating."
All Whites captain Ryan Nelsen explains to the foreign press why his side didn't perform Ka Mate or Kapa o Pango before any of their World Cup matches.
"We feel like a small footballing nation and it hurts. There's nothing to say other than it's a catastrophe."
France captain Patrice Evra sums up an embarrassing campaign in which the team finished bottom of their group and created an unseemly sideshow with their protests at the expulsion of striker Nicolas Anelka.
"They don't want to train, it's a scandal. I'm resigning, I'm leaving the Federation. I have nothing more to do here. I'm going back to Paris."
France team director and French Federation managing director Jean-Louis Valentin who kept his word after the players boycotted training over the Anelka affair.
COMMONWEALTH GAMES
"I was quite happy for her to take the shots. She had a sweet shot today."
Irene van Dyk plays tribute to Silver Ferns shooter Maria Tutaia's cool head in contributing to their gold medal win over Australia.
"We make a lot of confusion, we love the confusion and we muddle through somehow. If today's show is any indication, the Commonwealth Games will be great."
V.K. Sikund, a retired railway worker, after the opening ceremony got under way in Delhi despite countless problems in the build-up.
WINTER OLYMPICS
"The International Federation said what happened yesterday was human error. With all due respect ... one thing I know for sure is that no sports mistake is supposed to lead to death."
Georgian President Mikheil Saakashvili after luger Nodar Kumaritashvili died hours before the Vancouver Games opening ceremony in an horrific training crash.
SOCCER
"It was an unstoppable hug. More than words it was the hug. It was an incredible wedding between us. He [Inter Milan chairman Massimo Moratti] wanted me a few years ago when I was at Chelsea. He tried again and I went and maybe he had a feeling I could give him his dream."
Jose Mourinho after completing a treble with Inter Milan by winning the Champions League.
"To be denying rumours every day is tough. Boca is like making love with the window open, you don't have any intimacy."
Outgoing Boca Juniors coach Claudio Borghi.
"We were machine-gunned, like dogs. There was blood pouring down the bus."
Togo striker Thomas Dossevi after three people died when separatist rebels in Angola attacked the team bus in January, before the start of the African Nations Cup.
CRICKET
"I'm a pretty passionate Kiwi. I'm passionate about New Zealand. I've always loved cricket. I want to give it a go, give it my best shot."
John Wright leaves no one in doubt where he's headed as new Black Caps coach.
"These players have let us and the country down. We are already facing so many problems because of the floods and terrorism and they took away our one source of happiness."
A Pakistani cricket fan after spot-fixing allegations against Salman Butt, Mohammad Asif and Mohammad Amir emerged in August.
"It's just another number but it's nice."
Indian batsman Sachin Tendulkar after rounding off a record-breaking year by becoming the first man to score 50 test centuries.
LEAGUE
"Home is where you were born and home is New Zealand. I've lived in Australia longer but New Zealand will always be home. When I watched them do that haka it didn't feel right."
Roosters and Kiwis hardman Jared Waerea-Hargreaves gets all warm and fuzzy about Aotearoa while recounting his time in the Aussie schools team.
"That is the way it goes. That's footy."
Warrior Brent Tate after their exit at the first stage of the NRL play-offs.
GOLF
"I was unfaithful, I had affairs, I cheated. What I did was not acceptable and I am the only person to blame."
Tiger Woods in his first public appearance since revelations of repeated infidelity caused his spectacular fall from grace late last year.
"To 12 special guys, I asked them to play with their hearts and with passion and by God they did."
Europe's Ryder Cup-winning captain, Colin Montgomerie.
BASKETBALL
"You can look at it in a very negative light if you choose to or in a very positive light. It depends how you want to paint the picture. That's fine. They are decisions I've made and I don't regret them. They were things that I thought were very important. If anyone else was in my situation, I hope they'd do the same thing."
Breakers' star Kirk Penney reflects on his time away from the team pursuing his NBA dream.
TENNIS
"Nothing like this will ever happen again ... It stinks someone had to lose."
American John Isner on his 11h 5m Wimbledon win over Nicolas Mahut which ended 70-68 in the fifth set.
NBA
"I am going to take my talents to South Beach and join the Miami Heat."
LeBron James, the NBA's Most Valuable Player for the past two seasons, announces in a special live national television broadcast his move from the Cleveland Cavaliers to the Miami Heat.
FORMULA ONE
"Not bad for a number two [driver]."
Australian Mark Webber after winning the British Grand Prix having been forced to hand over his car's new front wing to Red Bull teammate Sebastian Vettel the day before.
"If Michael wants to go to heaven - in the event that he is going to heaven - then I don't really care. But I don't want to go before him."
Brazilian Rubens Barrichello reacts angrily after former Ferrari teammate Michael Schumacher tried to drive him off the track at the Hungarian Grand Prix.
RUGBY
"Sonny Bill has been selected on form. He has a lot of untapped potential."
All Black coach Graham Henry announces the arrival of SBW on the world stage.
"We can't explain how we collapsed mentally and physically, individually and collectively in the last 30 minutes of the game. I think it's just impossible to explain the inexplicable."
Shellshocked France coach Marc Lievremont after a 59-16 hammering by Australia.
"You don't want to be poking the bear, do you? The best thing to do is stand tall, stare them in the eye and show them you respect, and accept, the challenge they're laying down."
England rugby midfielder and former Kiwis league player Shontayne Hape on facing the All Black haka.
CYCLING
"It's a case of food poisoning, in which I am the victim. Whether people believe me or not, I know I can hold my head high and I'm not going to hide."
Three-times Tour de France winner Alberto Contador on his provisional suspension after a positive doping test.
ATHLETICS
"It was crazy. It was like I didn't even exist until I beat the world record-holder."
Former world double sprint champion Tyson Gay, the world's second fastest man, on public reaction to his 100 metres victory over Usain Bolt.