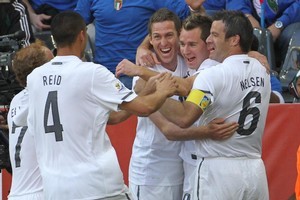 Michael Glading says the time is right for him to look forward.
Chairman Frank van Hattum reckons Michael Glading, the outgoing New Zealand Football chief executive, has "worked tirelessly" to achieve "outstanding results".
Come on, troops. What do you take us for? What chief executive of a national sporting body could claim to have completed a job, and who on Earth could make a proper judgment as to his worth, after just 2 years?
Soccer faces so many fundamental hurdles in this country that this job will never be done, but Glading has hardly scratched the surface.
Is there more to the departure of Glading, a former music executive, than meets the eye?
Put it this way: press releases in these situations tend to accentuate the positive.
"You know you've done a good job when the kids are running around in All Whites replica shirts and not Manchester United ones," Glading claimed in the release.
Excuse me? If this is so, then Glading cannot claim any credit.
Soccer has certainly made a few strides, but the national body's role has been minimal. Maybe Glading did a top job commercially as claimed, but his role had to be more than that.
This was the year of the All Whites, and Ricki Herbert, Ryan Nelsen and company - self-made professionals and battlers in the world game - were the ones responsible.
If players such as Rory Fallon and Simon Elliott had shown Glading's lack of perseverance in soccer, there wouldn't have been an All Whites fairytale.
The All Whites were a self-run outfit that, if my sources are correct, weren't singing from the same song sheet as NZF.
An iconic moment: a Glading baby, the World Cup song, crashed like a punk rock anthem in the country charts.
I heard suggestions the All Whites felt NZF indulged in grandiose scene stealing (as in the case of Glading's claim about shirts).
Some players (especially Tim Brown) took it upon themselves to promote the Bahrain qualifier in Wellington, along with the World Cup itself (Nelsen got the trophy here and did a nationwide promotions tour). Brown and Ben Sigmund even organised a private training camp in Australia.
There were also exceedingly strong rumours of a very serious bust-up between Glading and the All Whites' management on the eve of departure for South Africa because an NZF-organised team open day at North Harbour fell flat.
NZF failed in the tricky task of bringing a top-class opponent for the All Whites to New Zealand before the World Cup.
Elsewhere, the profile-lifting fortunes of teams such as Auckland City and the Phoenix depend on private initiative.
But the NZF has a vital place, and who the heck would quit with a Fifa windfall in the bank.
This looks like the case of a man who saw soccer as a career move, and not a long-term one. Either that, or he was pushed.
Fair enough. That's Glading's right, absolutely, and/or NZF's.
But when NZF appoints the next chief executive, they should look for someone with a greater understanding of soccer who has long-term strategies and the endurance to carry them out.
There may be exceptions to this rule, but passion for a sport is a crucial tool.
Bosses with this quality don't always come from within either. But in my admittedly scant dealings with Glading, I never felt he had the necessary emotional link with or understanding of the game, and thus vital instincts. His premature departure is decent proof of that.
There are other examples. Auckland rugby fell over under the influence of people who didn't truly, deeply care or know about it. One ARU chief executive is said to have deemed "tradition" a dirty word. Fool.