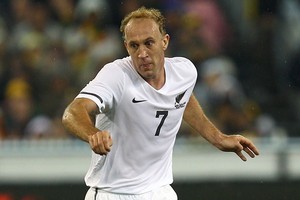 Simon Elliott looks totally at ease as he addresses about 50 talented youngsters quizzing him about football and the World Cup.
The questions aren't exactly difficult - 'what's your favourite food?', 'what brand of boots do you wear?' and 'who is the best player you have played against?' - but Elliott could do more of it in the future.
New Zealand Football is keen to employ Elliott as his professional playing career winds down. Whether that is in a coaching or mentoring capacity, or even helping facilitate opportunities for young players overseas, is something to be determined.
The concept is still in its infancy but there is a willingness on both sides. NZF bosses sat down with the midfielder during the World Cup in South Africa and a future role with the national body was discussed.
"I would like us to have an ongoing relationship with Simon because he's played at the top level both internationally and in the English Premier League and we have had very few players who have done that," NZF chief executive Michael Glading says.
"He has a level of experience and knowledge which is rare in our part of the world. We would like to tap into that. We think he has a lot to offer and have said to him, 'when you're interested, give us a call'."
Just when Elliott retires as a player is something even he doesn't know. At 36, and in a position that requires a good motor, it is happening sooner than he would like.
He had an excellent World Cup, emerging as New Zealand's best player behind captain Ryan Nelsen. He was tidy, composed and the All Whites' most creative player with a good range of passing. He certainly showed he can do a job for someone at close to the highest level.
It is some surprise, then, that Elliott is still unemployed. He was the only starter of a World Cup side to list his club as Unattached FC and he has not played a competitive game since New Zealand's 0-0 draw with Paraguay in Polokwane.
"There were a few things I looked at but they just didn't work," Elliott says. "My fiancee is pretty well set up in LA [training to be a doctor] and to be disappearing for a year or two at a time is probably a little selfish at this stage.
"There were definitely things there but they just weren't ones I wanted. I'm probably doing it the wrong way around and getting more selective as I get older, which probably isn't too smart.
"I was just trying to find something that was possibly shorter term and suited everyone but was unable to do it.
"There is still some potential but nothing concrete. I am still working on it.
"I hope I continue to play, it would be nice, but there's only so much control you have over that. You can't make people take you on. They have to do what's best for their club."
It's what the Wellington Phoenix did. Elliott approached the A-League outfit about signing him as a guest player - about 10 games - believing there was some interest there.
"It doesn't look like there was any interest," Elliott says with a shrug of his shoulders. "It would have been nice to play at home but I respect the right of the coach and owner to choose who they like. It's their team."
Elliott has been training regularly with one of his old clubs, LA Galaxy, and following his normal off-season routine to ensure he remains fit for both international and club football.
The most likely scenario would see him play in the MLS or second tier American league, because of his ties to the US.
Elliott has completed some coaching courses there and would look to do some more in New Zealand to make sure he was up to speed with how the game is being taught here.
"It would be really interesting [to work with NZF]," Elliott says. "We talked a little bit about it in Africa and we might have some more discussions while I am down here [for the friendlies against Honduras and Paraguay]. It's something I'd like to do.
"But it's not a situation where you want to go elbowing your way in saying, 'here I am'. It needs to work with what is already going on and whether I can be of assistance."
SIMON ELLIOTT
Age: 36.
Position: Centre midfield.
Professional club career:
* Boston Bulldogs (3 games, 1999)
* Los Angeles Galaxy (122 games, 1999-2003)
* Columbus Crew (59 games, 2004-05)
* Fulham (12 games, 2006-08)
* San Jose Earthquakes (15 games, 2009).
International caps: 66 (6 goals)
* Elliott made his All Whites debut against Southern Region in 1994 and scored on his A international debut against Singapore in 1995. He also played for New Zealand as an over-age player at the 2008 Beijing Olympics.