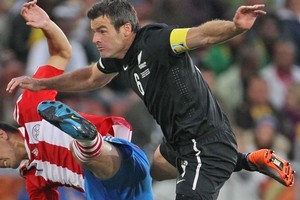 All Whites captain Ryan Nelsen has confirmed his availability for New Zealand's two home soccer internationals next month.
Nelsen, who captains English Premier League team Blackburn Rovers, had previously indicated his desire to play against Honduras in Auckland on October 9 and Paraguay in Wellington on October 12, but today confirmed he would make the trip home.
"I'm going to come back and play," Nelsen told LiveSPORT this morning.
"I have always wanted to come back. You've just got to play a bit of a political game with the club, but that's sorted and it's all good."
Nelsen hoped fellow All Whites centreback Winston Reid would also return for the matches, but said Reid should stay with English Premier League club West Ham United if he felt that would be better for his career.
"Everyone wants him to come back but we should support him if he wants to stay."
- NZPA