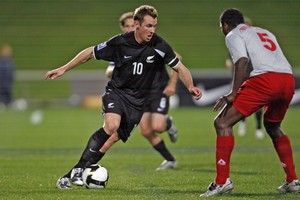 On an A3 piece of paper, New Zealand Football bosses have typed out all the Fifa international windows between now and the 2014World Cup.
Beside a number of those dates are entries about the type of opposition they would like the All Whites to play. Some are World Cup and Confederations Cup qualifiers against Oceania nations, while others are friendlies against A-level (high profile teams)and B-level (teams ranked around and below New Zealand) opposition.
Only two dates have so far had opposition names filled in - the friendlies against Honduras and Paraguay in this country on October 9 and 12 respectively-but there is a hope, and expectation, others will soon fill up.
They need to. It's imperative the All Whites keep playing regularly. They are the game's most powerful marketing tool-just look what happened at the World Cup - but marketing can only work if there is a product to promote.
NZF are planning for the All Whites to play one good quality opposition team a year in New Zealand, on top of any World Cup or Confederations Cup qualifiers against Oceania nations.
There's also an expectation by NZF and other forces in the game that Ricki Herbert's side will play between four and seven friendly matches annually to ensure the All Whites remain active and visible.
There are typically between 10 and 12 Fifa windows a year, with many of them coming in double windows when two matches are possible.
More regular fixtures against Australia are also on the cards, perhaps every second year, with the next one likely to be in New Zealand. The two countries are in regular contact and their close relationship helped secure the Paraguay friendly because they were able to share some costs.
While playing games regularly might seem logical, it hasn't always been possible for the All Whites.
NZF have gone through various approaches in the past six years. After the debacle of 2004, when the All Whites were beaten 4-2 by Vanuatu during the 2006 World Cup qualifiers, they almost went into hiding from embarrassment.
Then chief executive Graham Seatter came along and implemented an ambitious board proposal to play as many as 10 games a year. They went from one game in 2005, the 1-0 defeat to Australia in London, to 11 in 2006 and six in 2007.
It almost sent the game broke and they went begging to the Government for a loan to remain solvent.
Almost as quickly, they reined in. The All Whites played three matches in 2008 and that was because they had to - the World Cup qualifiers against New Caledonia (twice) and Fiji.
Now NZF have money in the bank as well as a team ranked near the world's top 50. After an unbeaten run at the World Cup, they are in a much stronger position to organise matches.
"Our goal should be to get the All Whites back once a year to keep that visibility up," current NZF chief executive Michael Glading says.
"That makes a lot of sense. They are a very strong marketing tool for our sport. We will then fill in as many of the other windows as practical. They will mostly be away games. Economically that makes sense.
"Being a team who played at the World Cup, I am quietly confident we can get a greater match fee than in the past. There have been many games in the past when we couldn't command a match fee. We are now seen as credible opposition and will be in a position to ask for match fees, depending on the opposition."
That will offset a lot of the costs and, in some cases, generate a profit. Home teams typically pick up the costs for both sides as well as opposition match fees in return for any gate takings.
New Zealand's costs are that much higher than most because of the tyranny of distance, with the game against Paraguay alone costing NZF more than $400,000. They need a crowd of more than 22,000 in Wellington to break even.
The importance of games, however, was no better illustrated than in the past 18 months.
At the 2009 Confederations Cup, the All Whites were smacked 5-0 by Spain before a disappointing 2-0 defeat to South Africa. They recovered in the third match, drawing 0-0 with Iraq to claim New Zealand's first point at a Fifa senior men's tournament.
They went into the Confederations Cup with a match against Italy but also others against Thailand, Tanzania and Botswana which proved inadequate. When the Confederations Cup rolled around, they weren't able to cope with the pace and skill of Spain.
Before the recent World Cup, the All Whites played warm-up matches against fellow World Cup finalists Mexico, Australia, Serbia, Slovenia and Chile. They were ready when they took the field in South Africa for their first match against Slovakia and it showed, finishing the World Cup as the only unbeaten team.
The qualification path for Brazil is crucial to completing the puzzle. It's likely the present pathway, which sees the Oceania winner play off with the fifth-placed Asian side for a spot in the final 32, will remain.
That means regular games against Asian and Middle Eastern nations are imperative so Herbert's players remain familiar with their style of play.
NZF made some important contacts at the World Cup, which should open up possibilities.
"One of the good things is we made contact both during and after the World Cup with other nations, including strong nations," Glading says.
"They have expressed a genuine interest in playing us. We contacted a lot of them about playing here in October but, while they said no, left the door wide open for games to be played both home and away in the future. We will follow up on those."
The games against Honduras and Paraguay fit a different category. Both games are being pitched as something of a World Cup celebration rather than any building for the future.
The conclusion of the Paraguay match will mark the end of the 2010 World Cup campaign and the beginning of the quest to qualify for the 2014World Cup in Brazil.
Herbert is likely to bring back the entire 23-man World Cup squad for the matches, injuries permitting, along with his staff. Andy Barron and James Bannatyne have both announced their retirements from all forms of football but will be included in celebrations somehow.
Herbert is likely to assemble his best side for most games but will also use the opportunity to integrate a number of youngsters. Away games against lower-ranked nations like Singapore and Thailand could be arranged and used to play a mixture of established and new All Whites.
While most of the World Cup squad can be expected to be around in four years', it's uncertain whether the likes of Ryan Nelsen, Ivan Vicelich and Mark Paston will be there and many others will be the wrong side of 30. An injection of youth will be needed to freshen things up.
The All Whites are likely to play away fixtures in the international windows in March, June and September before looking to host another game next October.
October's date could become a regular home fixture but NZF will reserve judgement on hosting matches until after the Paraguay and Honduras games. In many ways, they are being treated as tests.
"I think those two games will tell us a lot," Glading says. "I think they will dictate the future to some degree.
"The organisation hasn't put itself at risk in recent years because of debt. There is risk around these games, no question. If we fall horribly short, there would have to be a review of this policy. I am confident we will get a good crowd.
"In any case, we will plan better than we have ever done rather than say, 'gee whiz, there's a [Fifa] window coming up in three months, who should be play?' The more we can forward plan, the better.
"You will see a mixture over the next three years of teams that are above us [on the world rankings] and below us. Our goal is that by the end of the year, we will have a mixture of locked fixtures and pencilled fixtures." These will all find their way on to the A3 sheet of paper.
The Next Four Years
* The All Whites could play one home game annually against "good" opposition on top of any World Cup or Confederations Cup qualifiers.
* It's hoped they will also play between four and seven away friendlies a year.
* More regular games against Australia are being planned, perhaps every two years. The next one is likely to be in New Zealand.