Peter Bills writes that New Zealand's decision not to lavish ludicrous sums on new stadiums and back-up facilities for the big event is the wisest path.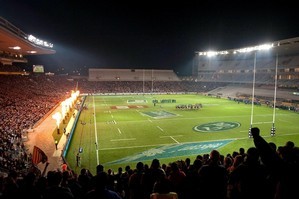 New Zealand looks like emerging a clear winner from the great sporting World Cup comparison with South Africa.
Common sense decisions are already winning hands-down over the splash-the-cash philosophy of the South Africans, an approach that is attracting storms of criticism as the cost of staging the Soccer World Cup balloons to a frightening $11.87 billion.
Of course, some will say comparisons are impossible. The 2011 Rugby World Cup might be third on the ladder of the biggest sports events in the world, behind the Soccer World Cup and the Olympic Games. In truth, it is far smaller fry. For a start, the game is only played to a serious level in a handful of countries.
Even so, the decision of the New Zealand hosting committee not to be bounced into lavishing ludicrous sums of money on new stadiums and back-up facilities looks like being by far the wiser of the two. For already, over in South Africa, brows are becoming ever more furrowed as Government officials pore over the final figures of Africa's first ever Soccer World Cup.
It was originally estimated that the South African Government had spent $2.8 billion on grounds, building new stadiums and improving existing ones, plus a further $2.8 billion on transport and communication infrastructure.
But the final costs have apparently spiralled far in excess of those figures, to $12 billion. Even the originally estimated sum of money was large.
But it was said before the tournament that hosting the event should boost the South African economy by $17.4 billion.
However, two significant points should be made in conjunction with these originally projected figures. Germany, which hosted the 2006 Soccer World Cup finals, budgeted for an increase in its GDP of 0.5 per cent. In reality, the event strengthened the German GDP by only half that figure, 0.25 per cent.
Then there were the projected numbers of visitors upon whom those sums were, in part, calculated. South Africa expected up to half a million visitors for the month-long tournament.
As the first kick-off neared and the world recession deepened, that figure was hurriedly reduced to around 450,000. Alas, even that diminished number proved hopelessly ambitious.
Final figures have yet to be released, yet it is said they may come in below 300,000. How far below is not known but it is fair to say this is squeaky bum time among the financiers totalling the price of the South African tournament.
The event was put on with no apparent regard for cost, even in a land where 40 per cent of the population live on less than $2.80 a day. Cape Town's futuristic Green Point stadium came in at a whopping $940 million alone.
The cost of this one stadium is getting on for double what New Zealand is spending in total for the Rugby World Cup next year: $550 million.
Green Point, overlooking Cape Town's Table Bay, was the most expensive of the new stadiums built and it staged just eight matches.
That equates to a capital outlay of $117.5 million for each game held there.
The Moses Mabhida stadium in Durban cost $640 million and held just seven games. In Port Elizabeth, the newly built Nelson Mandela Bay stadium, which also put on just seven matches, cost $390 million.
There were also new stadiums built in Nelspruit and Polokwane whilst existing stadiums in Johannesburg, Pretoria, Rustenburg and the Free State were renovated and upgraded, Soccer City to the tune of a massive $620,000.
By anyone's standards, these are eye-watering sums of money.
But when put alongside the sums being spent in New Zealand for next year's Rugby World Cup, they are mind-boggling. Martin Snedden, chief executive of the event, insists the sum of $550 million to build and upgrade existing stadiums is accurate.
That figure is broken down as follows: Eden Park, Auckland $190 million (paid for by the Government), the new Dunedin stadium, $188 million (a third paid by Dunedin, a third by regional councils and the final third by private investors) AMI Stadium Christchurch, $60 million (paid for largely by local government with central government assistance and further cash from private box sales), Maclean Park, Napier & Okara Park, Whangarei, about $15 million each.
Small sums have been spent on the grounds at New Plymouth, Nelson, North Harbour and Invercargill.
These modest sums may invite a certain element of ridicule among some world observers of the major sporting scene but they represent common sense in bucketloads in these straitened financial times.
The decision not to go ahead with the futuristic waterfront stadium at Auckland, built partly over the water, increasingly looks like sound judgment of the highest order.
Snedden, who has brought a much valued pragmatism to the task of staging another World Cup in New Zealand, says: "I never thought we would go down that road ... of the South Africans. You have been here long enough to see the discussion that has been going on about Party Central on Queens Wharf. If we had gone for the waterfront stadium, I think we would still be sitting here today discussing the designs.
"The risk surrounding that was enormous in terms of being able to get through a process from A to Z of actually working out what should be done and where. For there was no site ..."
Snedden says he is increasingly proud of the stadiums taking shape in this country and how they will look come September 9 next year.
"I think Christchurch has been done up really nicely and Eden Park will look really smart too. The philosophy we are taking into this thing is not that big is best. It has to be almost the opposite of that in New Zealand.
"Our philosophy is, let's get this around the country, let's put it in small places otherwise, in lots of ways, it would disappear out of the scene.
"Our approach is, the strength of a tournament in New Zealand is that it can be quite different from the way it's held in the rest of the world."
Meanwhile, back in South Africa, the notorious vuvuzelas are finally silenced. The swank new stadiums are locked and quiet, save for the rustle of waste paper blowing around the empty passage ways deep in the bowels of the construction.
In official circles, the nightmare has already begun. How will these new grounds, which cost hundreds of thousands of rand a week just to maintain, pay their way?
In Durban, they have the ludicrous scenario of the costly Moses Mabhida stadium, capacity 62,760, sitting right across the road from Kings Park rugby ground.
Requests of an increasingly desperate kind have been made to the Super Rugby outfit the Sharks to play next year's fixtures in the new ground but the Sharks are unconvinced. They are happy enough with their present ground and its 52,000 capacity. Why switch and pay for the use of the new ground, they argue?
It is a similar story in Cape Town. Optimistic noises were made prior to the World Cup to the effect that Western Province rugby and the Stormers would relocate permanently to the Green Point stadium, after the tournament was over, deserting the historic Newlands ground.
But the reality appears very different. Newlands boasts more than 300 private hospitality boxes, Green Point considerably less. Western Province sees no reason to exclude so many of their corporate clients and leave a ground which remains highly popular for corporate and viewing spectators.
And so Green Point too lies silent, now deserted ...
This is the nightmare scenario that could have confronted New Zealand had grandiose ideas got out of hand. South Africa looks like paying a high price for its delusions of grandeur, mixed with a submissive, acquiescent approach to Fifa's alleged bullying over the need for new grounds.
Does Snedden fear that these South African grounds will become white elephants? "It sounds to me there is a reasonable chance that a number of them are going to be that, yes.
"The one in particular I am thinking of is Durban, straight across the road from Kings Park. Natal Rugby has been asked to play there but if they did, what happens to Kings Park?"
Snedden's summary has a chilling tone.
"I look at South Africa and I have no idea what the assessment of it will be 10 years down the track. They poured an enormous amount of money into it, in particular into the infrastructure that may not be used afterwards. But all of the money that has gone into the infrastructure here has gone into facilities that will be fully used on an on-going basis. Each of the rugby stadiums that has had stuff done is part of the normal day-to-day business of sport going forward in New Zealand."
No white elephants, no ludicrously over-ambitious stadiums that may stand empty for years while the cost continues to increase.
New Zealand should be grateful, very grateful that the people who have planned next year's World Cup have done so in modest terms, with both feet rooted in sound economic common sense. Unlike South Africa, this country isn't likely to spend the next decade paying off huge debts incurred over some sporting fiesta that just got totally out-of-hand.
THE COSTS
$5.6 billion - The amount South Africa expected to spend hosting the soccer World Cup
$12 billion - The likely cost
$117.5 million - The cost in capital terms of each of the eight games staged at Cape Town's Green Point stadium
500,000 - Pre-tournament projection of fans expected to attend games
300,000 - Latest estimate of those who turned up
Peter Bills is an international writer for Independent News & Media