Kiwis are ecstatic when the All Blacks and All Whites perform well on the world stage and, as Michael Brown reports, that pursuit of sporting success shapes us as a nation.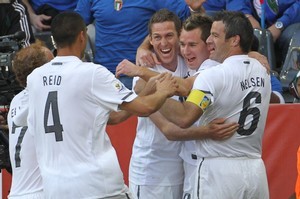 Ricki Herbert probably summed up best the sheer ecstasy of backing winners. Moments after seeing the All Whites qualify for the World Cup last November, Herbert's rambling, almost incoherent spiel over his team's performance became part of soccer history.
"I'm absolutely speechless, H [former All Whites striker Harry Ngata]," he burbled during a sideline TV interview.
"This group behind me, they've given it absolutely everything. Four years of total commitment. I said if I could see you on the f***ing pitch, when you win this game; I didn't see it in Singapore being on the pitch, but ah ... Mate, that's an incredible group, we're back, mate, we're there, mate, South Afri-CA!"
He doesn't swear often, certainly not in public, but the moment got the better of him. He didn't care. He still doesn't. It was raw emotion.
In a sporting-mad nation, winning - or losing - has that powerful effect.
It can shock, it can render people speechless and move others to tears. And there is nothing quite like the euphoria of a winning streak.
New Zealand sport is going through a memorable period of achievement. The All Blacks are playing like the best in the world, with the confidence of a fierce, unbeatable force.
The Warriors enjoyed a winning run of five games, the third best in the club's 15-year history.
And the All Whites qualified for their first World Cup in 28 years, returning from South Africa as the only unbeaten team at the competition after draws against Slovakia, Italy and Paraguay. It was a run that shocked and captivated the nation in equal measures.
In a country where the nation's history, personality, character and national identity are defined by sport, winning is everything.
Many Kiwis can remember where they were when John Walker, Peter Snell, Hamish Carter and Sarah Ulmer won Olympic gold, when David Kirk lifted the William Webb Ellis Trophy, when Michael Campbell won the 2005 US Open, when Peter Blake's Team New Zealand won the America's Cup in 1995 and 2000, and when the Kiwis won the 2008 Rugby League World Cup.
They are moments forever etched in the national consciousness and, thanks to television, are played over time and again.
Former New Zealand hockey representative Peter Miskimmin knows exactly where he was when Dick Taylor won gold in the 10,000m at the 1974 Commonwealth Games. Miskimmin, now Sparc chief executive, was spellbound as he watched Taylor race around QEII Park in Christchurch.
"If you asked most sports people, even at the elite level, they could go back to a defining moment that inspired them," he says. "For me, and I went on to play for New Zealand, it was Dick Taylor.
"I remember going for a run that night and feeling like I was running on air. I could run all night. From there I carried on with athletics and got involved in hockey. One of the things I wanted to do was go to the [Olympic] Games. It was something that inspired me."
It is appropriate Miskimmin is now running Sparc, the government organisation tasked with community sport and recreation programmes as well as high-performance sport. The organisation plays a large role in present and future sporting success.
Sparc spends $42 million annually on high-performance sport, but the Government recently announced it will increase this by $10 million this year, $15 million next year and $20 million the following year. Sport matters to New Zealand and sporting success matters even more.
"A lot of our national identity is based around sport," says Dr Gary Hermansson, a sports psychologist who has been to six Commonwealth and Olympic Games and has also worked with the Black Caps.
"Sport has helped make us on the world stage. It means we identify with our national sporting teams, in particular the All Blacks.
"When New Zealand teams succeed there's a sense of inner pride, accomplishment and confidence. That spills over into the way we see things and how we perform.
"We also experience the reverse of that, as we have known every four years [with the All Blacks at the Rugby World Cup] when we have our dose of doom and disaster, agony and grief."
And as next year's Rugby World Cup looms, so does the possibility of a victory or loss.
Sir Brian Lochore, who coached the All Blacks to their only World Cup success in 1987, thinks if we win the reaction will be relief followed by sheer joy - about 10 seconds later.
Failure to win the World Cup is something that has haunted the country. New Zealand will celebrate, undoubtedly, but there's an argument we don't really know how to celebrate properly and certainly don't celebrate winners often enough in the way Australians fawn over their champions.
"As a nation, we tend to be a bit self-conscious about celebrating," Hermansson explains.
"We talk about tall poppies. We don't like people getting too exuberant and over the top. It's not part of our national character to be flamboyant and have flair. If we win the World Cup next year, I think we will celebrate but it will still fit within our normal careful constraint.
"It's just who we are. The Kiwi thing is you can be confident but that can often get mixed up with over-confidence and you are always on guard about being exposed or humiliated or ridiculed.
"There's a bad side to that, but also a good side. All of our heroes are distinguished by their humility, their ability to keep their feet on the ground. Hillary, Ulmer, the Evers-Swindell twins, Carter, Halberg, Michael Jones. They are good athletes but humble, down-to-earth Kiwis. And we love that because it's who we are."
Lochore fits into that category. He played 68 games for the All Blacks in the 1960s, 48 as skipper, and became one of this country's greatest No8s and captains.
He also came straight off the farm. He famously left a note on the kitchen table in 1971 for his wife Pam which read, "gone to Wellington. Playing test tomorrow."
Lochore had retired from rugby the previous year but answered an SOS to play in the third test against the Lions. There was no fuss about it.
Lochore has spent all of his 69 years in Wairarapa and says sporting success can have a greater effect on a small community than a city.
"When we [Wairarapa Bush] did well, it was amazing," Lochore says. "We went from 1000 people at a game to 5000. Everyone wanted to be there and everyone talked about it.
"And it rubbed off on to other sports. At one time, the basketballers also won the national second division championships. It can have an amazing effect on a community."
The way this has manifested itself has changed over time, however, as technology evolves. For this reason, Lochore says it was easier to play in his era.
"I think the public are probably more fickle now than when we were playing. They have always demanded excellence in terms of our rugby but if you lose today they are much, much tougher on you now. They are not as loyal as they used to be.
"I think it's to do with the press more than anything else. Everyone is looking for a different angle and we get bombarded by a massive number of people with opinions on radio, TV and in newspapers.
"It gets in people's heads much more than it used to when communications were never that good. You didn't have talkback and there was no TV, so you didn't get a close-up analysis of the match."
STEVE PRICE is something of an honorary Kiwi these days. Few Australians are as popular on this side of the ditch as the gravelly voiced 36-year-old. People admired him for what he did each week for the Warriors, Queensland and Australia and admired him because he embraced New Zealand sport and culture. It's a mutual respect.
Price has come to understand a lot about what makes this country tick, particularly around sport. "At the Warriors, it's a roller-coaster," he says. "If we win a few games in a row, everyone gets excited and the whole country talks about us. If we lost five in a row they dropped us like a dirty rag.
"It's not just the Warriors. It's any team in New Zealand."
This was no better illustrated than with the All Whites at the Fifa World Cup. Although they didn't win a game, they didn't lose one either. Football fever gripped the country for a few short weeks and, on the All Whites' Facebook page, membership went beyond 100,000 - up from 15,000 on the eve of the World Cup.
Next year's Rugby World Cup is also estimated to generate $1.15 billion of economic activity. These sorts of numbers wouldn't have been possible without the success, and knowledge, of the All Blacks.
But it's very difficult to calculate the exact benefits of sporting success and whether the country gets a return on the $42 million investment in high-performance sport. It's something Miskimmin regularly contemplates as he wrestles with budgets.
"Does participation in sport bring the health bill down?" he wonders. "Does it allow more trade opportunities because that brand has been able to penetrate into new markets? What the All Whites did in South Africa and the media publicity around that reached into countries and homes that no other marketing could have done.
"Sporting success makes us feel awfully bloody proud about who we are in the world. It also does a lot for the individual, the soul, the wellbeing. Anything to do with sport does.
"If I go for a run around the park, I feel really good afterwards about what I just did. If I watch Little Johnny play on a Saturday morning and he has a good game, I walk away thinking I'm ready to have a good weekend.
"Sport has that ability to take us away from other issues and takes us into an emotional environment where we connect and have a re-energised view of life."
WHERE THERE is success, there's also failure. Winning means there is also a loser.
Fear of failure is often cited as the biggest obstacle for any sportsperson, particularly at the elite level. Price grappled with that for years.
"I haven't found anything more difficult to overcome," he says. "That was the biggest thing around whether I played good or bad. It was me who would affect my performance more than anyone else.
"It took me a long time to understand that. As I got older I began to understand you can't focus on things you can't control. You can't control failure. All you can do is add to it and you get caught up in things that are going to affect your performance."
Sports psychology is a growing industry. When Hermansson went to his first Commonwealth Games in 1998, many athletes were embarrassed to be seen in his company, worried that it would be interpreted as a sign of weakness.
Now the role of a sports psychologist is largely understood and appreciated, but it doesn't make achievement any easier.
"We are a nation who wants to keep people in their place and that's one of the reasons we struggle to win pinnacle events on the world stage," Hermansson says. "We do pretty well up to a stage where it becomes the moment; you either win or go home.
"What happens then is expectations get so high the athletes become scared of failing and their performance is tenser and, when that happens, they make silly mistakes.
"You see that in rugby, cricket, netball. We play beneath our potential. The consequences of losing are so bad that when you get preoccupied with the outcome it breeds anxiety."
Herbert has experienced this a few times in his career, first as a player and now as a coach but none more so than on the eve of New Zealand's crucial World Cup play-off against Bahrain in Wellington. He had been involved in big games before but few as important as this and withdrew himself from the players to allow them to prepare in their own way.
"The biggest thing for me was the fear of letting a nation down," he says. "Just prior to that game in Wellington, there was that sudden cloud, the thinking that 'if we lose today, we let the nation down'. In some people that brings confidence and they step up and deliver. That's what we did.
"Afterwards there was an outpouring of emotion. There's that realisation you have made a nation proud. It's an incredible thing to do. It's an incredible feeling."