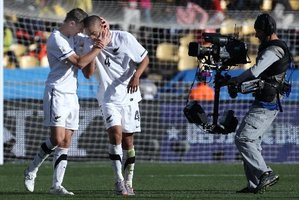 ONE
Greatest goal: Giovanni van Bronckhorst
There was nothing to match a Maradona special - a goal so outstanding to completely shade the rest. But the Dutch captain's semifinal screamer against Uruguay easily comes out on top because of the distance and angle involved, and taking into account the importance of the game. The left-sided Van Bronckhorst smashed the ball from nearly 10m outside the box into the far top corner.
Honourable mention goes to the Brazilian Maicon for his unusual goal against North Korea when, from the goal line, he bent the ball between the goalkeeper and post. To those who say it was a fluke: prove it.
TWO
The All Whites' Mt Everest Moment: a goal in chilly Rustenburg
Winston Reid's last-minute goal against Slovakia snatched a historic draw and also made everything that followed possible.
Reid-mania obscured Shane Smeltz's superb contribution, a swivel and pinpoint cross. But for that moment, we wouldn't be eulogising so much about the Ryan Nelsen-inspired All Whites, now and forever more. If any one act can be said to have nudged New Zealand soccer in a new direction, Reid's goal is it.
THREE
The Super Coach: Joachim Low
Until the semifinals, German Low had this one in the bag. His young guns fell over against Spain, however, intimidated by the relentless passing of the eventual champions.
Nonetheless, Low still snatches the title for imposing his brand of power-packed total soccer on the finals. Germany's flowing, uncomplicated style was highlighted by their marvellous second goal, finished by Lukas Podolski, against England.
FOUR
Best forgotten: the final
What actually happened in that match? Apart from a lot of fouls and a record number of yellow cards?
Dutch coach Bert van Marwijk admitted that fouls and the 14 yellow cards were regrettable for a World Cup final. "It is still our intention to play beautiful football," he claimed after an ugly match.
But, sadly, they were very dirty. So much so, they should have been down to nine men, then they made two such ugly and hard tackles that even I felt the damage. Johan Cruyff was unimpressed. "Of course I'm not hanging all 11 of them by the same rope, but almost. They didn't want the ball. This ugly, vulgar, hard, hermetic, hardly eye-catching, hardly football style, served to unsettle Spain. If with this they got satisfaction, fine, but they ended up losing. They were playing anti-football."
Runner-up: The vuvuzelas.
FIVE
The best player: Andres Iniesta
The Spanish midfield master Xavi led a quiet revolution - one in which the ball endlessly rolled to teammates. But his Barcelona mate Andres Iniesta's trickery really caught the eye. The pair's stylish ways oiled the Spanish wheels. Iniesta did not start the World Cup final so well, but his winning goal lifts him to be our player of the tournament - although I don't believe any one player truly stood out.
Strangely, neither Iniesta nor Xavi figured highly on Fifa's new sponsored player index which "employs the same expertise that Castrol applies to the development of its oils". Spanish defender Sergio Ramos zoomed to the top of that.
SIX
Sensational save: Noel Valladares
Nigerian Vincent Enyeama pulled off a string of brilliant stops against Argentina, and Lionel Messi in particular, in the opening-round clash in Johannesburg. Messi was superb otherwise, but with this match putting a ding in his goal-scoring confidence, the little wizard didn't really recover - and Argentina were eventually left high and wet ... with Maradona's tears.
All White Mark Paston had a brilliant tournament, especially with saves against Italy. But it's hard to find a better stop than Honduran Valladares' point-blank effort from Chilean Waldo Ponce's header.
SEVEN
Greatest game: New Zealand v Italy
This is where the tournament fell down. Did one game stand out? Not really. High-scoring thrillers were in short supply.
New Zealand's heart-stopper against Italy was certainly up there, though. For nearly half an hour, the absolutely unthinkable seemed possible thanks to the early Shane Smeltz goal. Having attended the match between the United States and Slovenia, this was also an outstanding game. The Americans mounted a thrilling comeback and were unfairly denied a winning goal and a penalty in a hugely controversial ending.
Fifa overlord Sepp Blatter is spot on when he says controversy is a wonderful part of sport.
EIGHT
Biggest upset: Switzerland over Spain
Switzerland's 1-0 win against Spain was a sad triumph for defence over creativity.
Switzerland's German coach Ottmar Hitzfeld unveiled a brutal formula against Spain that made little use of possession and relied heavily on bruising physical clashes to disrupt Spain's artful play. It was a formula followed later in the tournament by Portugal and one that nearly bought the Dutch success in the final.
NINE
Longest fall from grace: England
Few expect England to do well in big tournaments these days, but the manner of their exit was shocking. They were so bad that goalkeeper Robert Green's nightmare error against the United States became almost irrelevant. Even Algeria ran rings around them - "It's not the team I know," protested coach Fabio Capello after the 0-0 draw.
There will be many theories over the demise of England's national team. They looked scared to play in South Africa.
TEN
Best con: Manuel Neuer
The German goalkeeper proudly boasted he had conned the referee over England's infamous no-goal, when Frank Lampard's shot landed well over the goal line.
"I tried not to react to the referee and just concentrate on what was happening," he said. "I realised it was over the line and I think the way I carried on so quickly fooled the referee into thinking it was not over."
Hopefully, what goes around will come around.