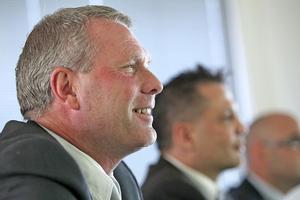 Ricki Herbert's three-year contract extension with the Wellington Phoenix is perfectly timed for another crack at the World Cup.
In signing until March 2013, Herbert would be free of any club commitments about 14 months before the 2014 Cup kicks-off in Brazil.
"It would give me a clear year and if we were close to winning our way back to the World Cup it would be ideal," said Herbert yesterday after confirming his commitment to club and country.
While he was expected to stay with the Phoenix, Herbert admitted some of the offers - from Europe, Asia and Africa - were tempting.
"I was mindful that after the 1982 World Cup people moved on, for whatever reason, and the game crashed. I didn't want to see that happen again."
Herbert said he will be better off financially in both roles but is still a long way short of what his counterparts elsewhere receive.
"The bottom line was that it had to be something pretty good to get me away," said Herbert. "Maybe I'm being too much of a Kiwi Kid but there is amazing support for both the All Whites and the Phoenix.
"There were nearly 10,000 people in Hamilton on Saturday for a pre-season game. That showed just how much momentum the game has at present."
Herbert paid tribute to the part played by Phoenix chairman and backer Terry Serepisos in facilitating the dual roles.
"A big part of my decision to remain was Terry. He has always shown a strong loyalty. Two years ago there were people who wanted me out but he stuck with me. This is a payback."
There is also a worthwhile financial return for Serepisos and the club.
Every World Cup player's clubs will receive US$1600 a day. The Phoenix, who had Mark Paston, Ben Sigmund, Tony Lochhead, Leo Bertos, Tim Brown and David Mulligan (now released) in South Africa, can expect around US$300,000.
Herbert said he expects to sign his new contract with New Zealand Football sooner rather than later.
While his most pressing concern is signing three or four players for the Phoenix - he is looking for an attacking midfielder, a striker and a defender along with an under-21 player - Herbert is also keen to build the international game here.
He sees Raul Blanco and Brian Turner - his All Whites assistants - as ideal coaching appointments for the next Olympic campaign pointing to the role he and Turner fulfilled before the 2004 Olympics.
Although narrowly beaten by Australia at the final hurdle, seven of that team were in South Africa with another five or six players involved at some time in the World Cup qualifiers.
Herbert is also determined to see more emphasis in the development of young players under a properly structured programme.
"The development of these young players is still not where it should be," said Herbert. "The current infrastructure is not doing that job well enough. We need to address that. It was more by good luck that we stumbled on players like Tommy Smith, Winston Reid and Chris Wood.
"The need to address this and having someone well-qualified to work with our elite coaches was a strong reason behind my decision to stay."