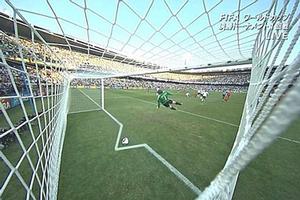 Germany 4
England 1

In the final analysis, the difference between the teams in Bloemfontein yesterday was the quality of a linesman's eyesight, and Germany's superior speed, of legs as much as minds.
Had Frank Lampard's 'goal' been given, the momentum England would have gained from two strikes in quick succession might well have proved decisive. An inexperienced German team looked rattled and the mental advantage would have been England's.
But the Uruguayan official got it wrong, so the physical attributes grew in significance. Against Germany's younger, fresher legs England too often looked sluggish, pedestrian even. Even when the age gap was irrelevant - Miroslav Klose, 32, being older than John Terry and Matthew Upson - Germany were still quicker.
England are chronically short of pace for a top-level international team.
Of the starting line-up, only Ashley Cole, Glen Johnson and Jermain Defoe could be described as quick, while the heart of the team - the central defenders and central midfield - could either be described as slow by international standards or, in Lampard's case, showing the effects of several years of non-stop soccer.
All four goals were a consequence of poor defending, but Germany's greater speed and mobility was a significant factor in each. For the first, Terry misjudged the flight of the ball and Upson did not give himself enough depth to cover. Klose went past him with ease. David James rescued England when he saved from Mesut Ozil after Lampard was bypassed by a one-two in midfield but he was helpless for the second when Germany seemed to have more players on the field, such was their greater mobility.
England's back-pedalling team were outstripped when Germany broke away for the third and Ozil left Gareth Barry standing for the fourth. What a blessing in disguise Michael Ballack's injury has been for Germany. He has been a very good international footballer, close to great, but these days he would have slowed Germany down. In many ways, this match was a reverse of England's storming of Munich in 2001 - much of the game was even but a younger sharper team picked off an older one. As then, the scoreline was flattering, though there is no doubt the better team won.
The worry is that it is not as if Fabio Capello had a plethora of other options. True, he left Theo Walcott out of the squad and Shaun Wright-Phillips out of the team, but both are flawed in possession and besides, the problem was not a lack of pace in attack.
Rio Ferdinand and Owen Hargreaves would have added speed in the vital areas but their injury problems make it difficult to ink in a key role for either. Maybe Ledley King should have played, but his match sharpness was in doubt. The other reserves in these areas, Jamie Carragher, Michael Dawson and Michael Carrick, have no great pace.
Who else is there? Micah Richards is quick, but his positioning is poor and there are doubts emerging over his attitude.
If England were as comfortable in possession as Spain, this would be less of a problem, but continually giving the ball away in dangerous areas leaves them exposed to pace. Given these problems, England should have taken precautions. If Lampard is going to shoot at every free-kick, England should not be sending eight men into the box.
It was not all bad. Rooney, playing in a more advanced position than previously, and Defoe linked well at times. Milner was a threat on the right, albeit one England did not make enough of. Like the Dutch wide men he started on the sideline but a lack of service meant he was tempted to come inside.
With Gerrard already coming in, England were too narrow. Gerrard looked bright for a spell, but the problems caused by his left-flank role - the space it leaves the opposition, and the limiting of his own influence - remain to be solved.
The spirit England showed after conceding the second goal was also impressive and it deserved the reward of Lampard's 'goal'. It was inevitable that an embarrassing incident like that would occur and Sepp Blatter will be castigated for his Luddite resistance to technology.
England should not, however, allow that to obscure the very real weaknesses they have shown in this World Cup. As well as a shortage of pace there is a lack of technique, a lack of mental strength, a lack of tactical acumen.
Exacerbating all this is the draining nature of the English season, a mass of high-intensity games without a winter break which leaves players exhausted and carrying injuries at summer tournaments.
- Independent