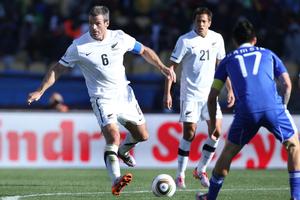 A fortnight ago we remarked on this page that the national football side had made us all proud before the kick-off whistle had been blown in the first match at the FIFA World Cup in South Africa.
Well, almost everyone: our assessment was made in the context of delivering a broadside to the New Zealand Rugby Union, which had, in a dismal misreading of the public mood, taken out newspaper advertisements disobligingly comparing the challenges faced by the All Whites with the rigours of a rugby test between the All Blacks and the Springboks.
It would be nice to think the NZRU would spend a few dollars on a campaign congratulating the All Whites on their excellent performance, but it would be foolhardy to hold one's breath while waiting.
In any case, the football side scarcely needs the imprimatur of rugby administrators to know how impressed everyone is with their performance in the world's most-watched sporting competition.
They return unbeaten - and, not incidentally, having held the reigning world champions to a draw, which is more than even their most one-eyed fans might have dared hope for when they left.
The excitement that the team's exploits have generated has been, at moments, slightly overstated by some sections of the news media.
To describe, as some observers did, the result of the first match - a 1-1 draw with Slovakia - as the greatest sporting achievement in this country's history was over the top by a large margin.
Certainly Peter Snell, John Walker, Valerie Vili, the women formerly known as the Evers-Swindell twins and Russell Coutts, to name just a few, would have good reason to be scratching their heads.
But it is always difficult to keep things in perspective in the middle of the night or in the flush of a fresh and unexpected sporting success.
And success is not the wrong word to apply to the All Whites' campaign. They may not have triumphed on the field but they triumphed over the doubters and entranced the believers.
It must be said that the All Blacks haven't done that since 1987. Here's hoping they will next year.