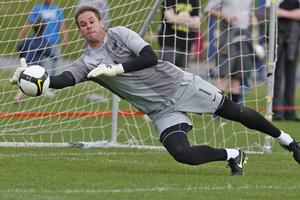 The All Whites' heroic World Cup campaign has earned them about $5.6 million to share - and grassroots soccer will also benefit.
The team's unbeaten performance has attracted a total prize pool of $14.2 million, says the acting CEO of New Zealand Football, Peter O'Hara.
Up to 40 players will receive a cut, which will be distributed by the Professional Football Association (PFA).
All players involved in the finals and qualifying matches will earn a share of the prize pool.
"That's split among the players in a formula which depends on the number of games they've played and what role they took in the World Cup," Mr O'Hara said.
PFA board member and former All White Harry Ngata said that before the 2004 World Cup campaign, the players all agreed on an equal-share system.
That means each player could receive a generous six-figure sum.
New Zealand Football will use the remaining millions for its football foundation, to encourage young players to emulate today's All Whites stars.
"The foundation was set up at arm's length to New Zealand Football and that foundation will benefit grassroots football," Mr O'Hara said.
The All Whites begin arriving home tomorrow but an official celebration could be up to a month away.
The first of the players - Ivan Vicelich, Tim Brown and Ben Sigmund - will arrive in Auckland about 1pm, and the other New Zealand-based members of the squad will return home throughout the week.
Coach Ricki Herbert is expected to arrive back in the country on Friday.
Prime Minister John Key favours a parade for the team "as champions", but the Wellington City Council says players' return schedules and the capital's unreliable weather could delay plans for a tribute.
"They are a team that are going to come back to New Zealand as heroes," Mr Key said. "It was always going to be a Herculean task to get through [to the next round of the cup]. In the end, they didn't quite make it on points but [achieved] a result nevertheless that we can all be proud of."
A spokesman for the Wellington Mayor's office, Stephen Matthews, said a July 23 Phoenix friendly match against Argentine club Boca Juniors might become the occasion to honour the All Whites and their coach.
The city council's events team was hashing out ideas with New Zealand Football, he said.
There was a strong public desire for a parade, but Wellington's unreliable July weather might make this difficult, Mr Matthews said.
Auckland City Mayor John Banks agreed this week that Wellington would be the appropriate place for a parade as it was the country's "football central". However, Auckland would still do "something" in celebration.
- ADDITIONAL REPORTING: MICHAEL DICKISON