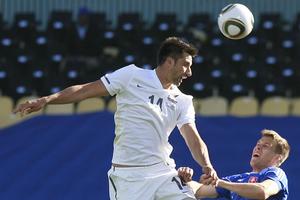 MARK PASTON
8.5/10
When Gianluigi Buffon was ruled out of Italy's second Group F match, soccer fans assumed they'd been denied the chance to see a great goalkeeping display. They reckoned without Mark Paston. The Phoenix stopper was immense: assured when dealing with dipping shots and imperious at handling the crosses. His early nerves against Slovakia were quickly forgotten. He was deservedly first-choice keeper by the time of yesterday's final group match.
RORY FALLON
5/10
The big man allowed himself to be played out of games by flapping his arms about far too much. A defender as smart and experienced as Fabio Cannavaro was always going to make the most of any chance to flop about clutching his face, and Fallon gave too many chances. Nonetheless, he got a couple of good flick-ons and and his height meant he remained a key plank in the All Whites' long-ball game plan.
WINSTON REID
8.5/10
New Zealand's great Dane will always be remembered for the late goal that sent the nation soaring against Slovakia, but his general play was outstanding. He timed his challenges well and read opposition play superbly. When moving forward, Reid delivered long accurate passes with a technique that was more effortless chip than heaving kick. Apparently "big Italian clubs" were interested in his signature before the tournament. That interest will have swelled in the past two weeks.
RYAN NELSEN
8.5/10
Suffice to say, if he wasn't there, the campaign would have a vastly different look to it. Perhaps little more than a determined chugger in the Premier League, Nelsen's cool head and timely interventions proved crucial at the back on the highest stage. With star centrebacks crying off injured and flopping around out of form, the All Whites captain is a contender for a place in the team of the tournament. Has never given less than a committed, focused performance in NZ colours throughout the campaign.
TOMMY SMITH
8/10
Had a heap of defensive work to do in every match with attacking movements in open play moving to the All Whites' left. Smith proved himself up to the challenge, but was at fault in the Italian penalty, despite the exaggerated tumble. The arrival of the lad from Ipswich along with Winston Reid brought an injection of talent, enthusiasm and optimism to the squad. Between the two of them we have the foundation for future campaigns.
LEO BERTOS
7.5/10
Was shut down by Slovakia but, perhaps surprisingly, found more space against reigning champions Italy. Throughout the tournament, Bertos was the All White most comfortable taking the ball at his feet and running straight at defenders. He didn't manage to deliver the ball in as accurately or as often as he would have liked, but he proved a valuable asset on the field.
SIMON ELLIOTT
7/10
Before the tournament, insiders talked about the 2010 All Whites having the best attackers and defenders in the team's history. Midfield was assumed to be the weakness, but Elliott's fine performances put paid to that. Looked more comfortable turning on the ball and picking out teammates against Italy than he has done in the past against the likes of Vanuatu. Ran all day, gave his all and forged a telling defensive partnership with Ivan Vicelich.
TONY LOCHHEAD
4.5/10
Was sprightly in the opening exchanges against Slovakia and looked happier moving forward. But Lochhead's tournament was always going to be judged on the basis of his defensive duties and he was too often caught out, looking flustered when opponents dribbled at him and ineffectual in the air. With most of the attacks moving down his flank, he was fortunate that Tommy Smith was in fine form behind him.
SHANE SMELTZ
8.5/10
Probably the pick of the outfield players, Smeltz scored one himself and delivered a peach of a looping pass under pressure for Reid to score against Slovakia. He looked comfortable with the ball at his feet, but was probably tied up too often with his back to the goal. In any competition he is in, if goals are being scored, he looks likely to be amongst them. His determination and smart movement could win him another shot with a European club.
CHRIS KILLEN
5.5/10
The Middlesbrough striker had a relatively quiet tournament. He was less noticeable in the air than Rory Fallon and didn't find the space to move in that Shane Smeltz could pick out. Like Fallon, though, his size meant that the All Whites' midfielders and wide players always had the option of a long ball into the box.
IVAN VICELICH
6.5/10
With Tim Brown injured, the centreback was a surprising selection to fill the hole in midfield. He stepped in with assurance and nearly scored a goal for the ages against Italy. Wasn't entirely comfortable on the ball and didn't have a lot of success linking up with the forwards, but on the many occasions that a towering defensive effort was required, Vicelich was the man, knowing where to put himself to break up attacks and knowing when to sprint back in desperation. One of the experienced heads crucial to team unity.
REPLACEMENTS
CHRIS WOOD
7/10
Ran well when he came on for Chris Killen and Rory Fallon, getting back to help in scrambling defence when it mattered. Wood nearly entered the halls of legend when he skinned Fabio Cannavaro - repeat: he skinned Fabio Cannavaro - before pulling a sharp effort across the goalmouth that would have won secured the scalp of Italy. Could have had more impact with earlier entry to the games.
JEREMY CHRISTIE
6/10
Came on late to provide fresh legs in midfield. Found few chances to get involved.
ANDY BARRON
n/a
Too little time to be measured meaningfully. His presence was indicative of New Zealand's scant resources and the wonderful spirit in the squad.
JEREMY BROCKIE
n/a
Honoured with a run.