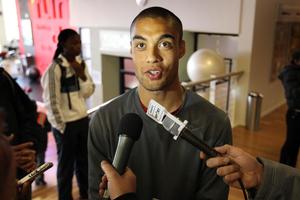 "This is obviously the most important game of my life."
- Defender Winston Reid on his stunning late header against Slovakia.

"The Italians were diving around like little girls. You can't really do much about it. If someone's going to ruin the game then so be it but we kept fighting."
- Striker Rory Fallon on the Italians ongoing battle with gravity.

"The PM came in and congratulated the boys afterwards. A year ago that might not have happened."
- Goalkeeper Mark Paston on the rise the soccer in New Zealand and John Keys' tendency to turn up in jubilant dressing-rooms.

"As a team, we grew a lot over the last four years. We have a lot of confidence when we go out on the pitch. We now know what we're capable of."
- Midfielder Ivan Vicelich on the All Whites development.

"You can always dream the dream and we are dreaming it."
- Coach Ricki Herbert shares the sentiment of the nation.

"There's a good team spirit here and I think that makes a big difference. You know you're going to work your arse off and help your mate next to you."
- Midfielder Tony Lochhead on the team spirit that drove the side on.

"The environment here is fantastic. You hear of other teams in the World Cup with issues or problems in the camp. We go out there and play for one another. As soon as we cross that line, we'd die for our teammates."
- Striker Shane Smeltz.

"This, given North Korea's competence, is surely the biggest mismatch of the tournament: the world champions against the 2000-1 outsiders."
- Guardian journalist Rob Smyth rated the All Whites dimly before the Italy game.

"The All Blacks are No 1 and it will be hard to ever knock them off their perch. But we're not really looking to knock them off, we just want to lift the profile of football back in New Zealand. Hopefully, it's not another 28 years before we're here again."
- Lochhead on soccer's rise with New Zealand sports fans.

"I don't even think about it, I don't care about that. All I care about is the team, the performance and us being proud of ourselves."
- All Blacks assistant coach Wayne Smith on the rise of the All Whites in the public's affection.