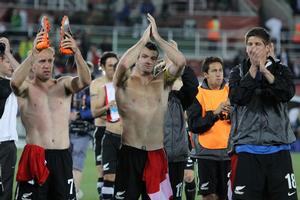 The All Whites' dream run is the greatest achievement in New Zealand sporting history, says a 1987 Rugby World Cup champion All Black.
The All Whites exceeded expectations with an undefeated Fifa World Cup campaign that ended this morning with a 0-0 draw against Paraguay.
Michael Jones, who was part of the 1987 Rugby World Cup winning side, and has been voted as one of the greatest All Blacks in history, said what the soccer team accomplished in South Africa was "unparalleled".
"It's incomparable, really. I can't think of anything in my lifetime that I've witnessed that's sort of shot out of nowhere on the biggest stage in the world like that.
"Even when you think of some of the great things we've done as a sporting nation ...They [the All Whites] have done something that's significant and uniquely special.
"That's not to take away from what we've achieved, but the sporting purist will appreciate that what these guys have achieved in that context is unparalleled."
The All Blacks are always expected to win, and New Zealand even expects to have another Peter Snell or Valerie Vili - but this was totally unexpected, Jones said.
"If you go back to 1982, when I was a teenager, I remember soccer really took off," he said, referring to the All Whites' first-ever World Cup appearance.
"I didn't think that we would ever witness a success exceeding that."
A whole generation has been inspired to play soccer, Jones said. But rugby was ingrained in our psyche and would remain the number one sport, he said.
Halberg Trust chairman reacts differently
New Zealand's annual sporting awards' chairman, Halberg Trust's Mike Jeffcoat, was less certain about the All Whites' legacy.
Mr Jeffcoat said the All Whites had certainly grabbed the public's imaginations and put forward a strong case for greatest sporting achievement of the year.
"The academy members would be, just like the rest of New Zealand, delighted with the performances. We all believe they exceeded expectations - perhaps aside from those of the players," he said.
"I thought it has been fantastic."
But it was hard to compare different sports, and an undefeated All Blacks season, for example, might be considered by many New Zealanders to be almost as remarkable when it came time to pick the sporting achievement of the year, Mr Jeffcoat said.
As to where the All Whites' dream run sat in New Zealand sports history, Mr Jeffcoat said it could be up to how the players themselves took the result.
It certainly ranked "high", but if the team were hungry for more, they could quickly eclipse this year's result, he said.
"In four years' time, would we - or the players - be happy if they went through [the World Cup] with three draws?" he asked.
While he had nothing but praise for the All Whites, Mr Jeffcoat said in virtually any other sport the New Zealand sporting public would not settle for an exit before the final 16 as the country's greatest sporting moment.
The 2002 basketball world championships, where New Zealand came a surprise fourth and took out the supreme Halberg award, was a similar situation, he said, where many in the public had grumbled about giving top recognition to a fourth-place finish, albeit an exceptional one.
But this line of thinking was unlikely to affect Halberg's 30 academy voters this year, he said.
Mr Jeffcoat said he considered Michael Campbell's 2005 US Open win as New Zealand's greatest sporting achievement, at least in recent times.
"He won against virtually every golfer in the world," Mr Jeffcoat said.
But in any case Ricki Herbert would be hard to beat for coach of the year, Mr Jeffcoat said.