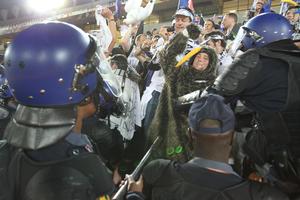 POLOKWANE, South Africa - Police clashed with celebrating New Zealand fans after the team played its final match at this year's World Cup.
There were no reported injuries.
Although New Zealand failed to advance to the round of 16 after a 0-0 draw with Paraguay, the fans were still happy with the third straight point at the tournament and stayed in the stadium after the final whistle to cheer on the players.
Police then confronted the joyous fans, using batons to force them out of the stadium.
Despite the clashes, police spokesman Motlafela Mojapelo denied there were any major incidents.
"Inside and around the stadium, no violence was reported with any of the police posts in operation," Mojapelo said. "Police escorted the fans to the city center without problems."
Another police spokesman, Colonel Hangwani Mulaudzi, also said it was a peaceful confrontation.
"A group of New Zealand fans were singing inside the stadium after the match. They were happy that their team had drawn," Mulaudzi said.
"Police told them to move on, that the game had finished and they obliged. Everything was friendly."
- AP