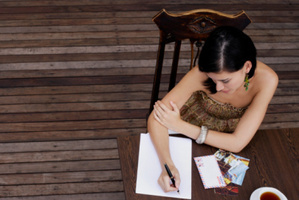 It's the same every year. As soon as the programme for the Auckland Writers & Readers Festival lands on my desk I grab a pen and start vigorously circling like a crazed figure skater, until I'm left wondering how I can possibly fit it all in.
Since the programme was released this week, Bronwyn and I have whittled down the dozens of events on offer to our top six picks. Tickets are now on sale for the festival, which will be held at the Aotea Centre (and a couple of other Auckland venues) from May 9 to 13.
New Zealand Listener Gala Night
The festival kicks off with an unusual twist on the craft of writing - those who usually draft and re-draft in isolation, will instead engage in an evening of live and unscripted true storytelling. A panel of eight well-known writers including Roddy Doyle, Arts Foundation laureate Kate de Goldi and Eoin Colfer, (creator of children's book phenomenon Artemis Fowl), will tell tales inspired by the theme of "What the Dickens?" from Shakespeare's The Merry Wives of Windsor. A popular event last year, this should get the festival off to a lively, entertaining and glitzy start.

Thurs 10 May, 7pm to 8.30pm, Aotea Centre, $35 to $40, discounts for students and patrons.
A Train in Winter: Caroline Moorhead
This book featured in our hot books for September 2011 and tells the story of 230 women deported from France to Auschwitz-Birkenau in 1943, of whom only 49 survived. Moorhead is a journalist and biographer, and will talk about the art of biography and some of her powerful subjects from Freya Stark to Martha Gellhorn and the women of Convoi 31000.
Friday 11 May, 10am to 11am, Aotea Centre, $20 to $25, discounts for patrons and students.
Charlotte Wood is hot stuff across the Tasman, where she is known not just for her bestselling fiction, but also for her food writing. Her most recent novel is Animal People, the funny-yet-oh- so-painful day in the life of Stephen, a hapless fast food attendant who just can't seem to get it together. Wood is an astute observer of the human condition and a brilliant satirist on modern urban life.
Friday 11 May, 4pm to 5pm, Aotea Centre, $20 to $25, discounts for students and patrons.
Artemis Fowl and the Deltora Three
Fun, fantasy and storytelling abound in this session for young readers featuring Eoin Colfer, creator of the enormously popular Artemis Fowl series, and Emily Rodda, author of the Deltora Quest series. The discussion will be chaired by Kate De Goldi, and is suitable for both adults and kids.
Friday 11 May, 5.30 to 6.30pm, Aotea Centre $20 to $25, $12.50 for students.
The star of the Friday evening is Irish writer, dramatist and screenwriter Roddy Doyle. He may be best known for his novel The Commitments which was made into a popular film of the same name, and his fourth novel Paddy Clarke Ha Ha Ha was awarded the Booker Prize in 1993. His latest short story collection Bullfighting tells more tales of ordinary middle-aged Dubliners and is sure to be funnier and even more compelling when read in Doyle's accent, followed by conversation with Brian Edwards.
Friday 11 May, 7pm to 8.15pm, Aotea Centre, $35 to $40, discounts for students and patrons.
Small Holes in the Silence : A tribute to Hone Tuwhare
The title of this session comes from the poem Bronwyn declares the most delicious distillation of words from the English language: Hone Tuwhare's Rain. In this tribute to the late, much-loved poet, a distinguished panel of poet laureate Jacq Carter, Anne Kennedy, Gregory O'Brien, Rob Tuwhare and Albert Wendt will read one of Tuwhare's poems, one of their own and one of a co-presenter.
Saturday 12 May, 4pm to 5pm, Aotea Centre, Free
The worth and relevance of literary prizes is always a hot topic among booklovers and the big drawcard here is Dame Stella Rimington, chair of the 2011 Man Booker Prize judges. Rimington caused a literary outcry when she famously declared that she wanted people to "buy [the short listed] books and read them, not buy these books and admire them", leading to the establishment of a rival award The Literature Prize, in protest. Hear what Rimington has to say in this free panel discussion with Stephen Stratford, Jenny Pattrick and Chair of the NZ Post Book Awards Governance Committee Sam Elworthy.
Sunday 13 May, 4pm to 7pm, Aotea Centre, Free
On a final note, next week is the last week to redeem the New Zealand Book Month $5 discount coupons at participating book shops. You can download your coupon here.