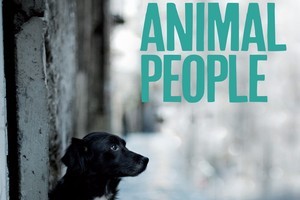 Many of us go through periods when we just stumble through life, caught in the daily routine of the commute, work, the kids, domestic chores. But sometimes even those ordinary moments add up to an extraordinary and life-changing day.
That's the idea behind my December feature book, Animal People, the latest novel from acclaimed Australian author, Charlotte Wood. It follows a single day in the life of 39 year old Stephen, who lives in a run down Sydney house and is stuck in a dead-end job serving fast food at the zoo. He's unhappy, unfulfilled and utterly clueless about how to improve his situation. The only bright light seems to be his girlfriend Fiona, and he's about to break up with her.
So far it's shaping up to be a day when Stephen may well have been better off staying in bed. He's not long out of the shower when he receives a circuitous, guilt-inducing telephone call from his mother after which "the acres of the day unrolled before him: all the different kinds of disappointment he would be, all the various arenas of his failure."
There follows uncomfortable encounters with his dog-loving neighbours and their elderly german shepherd Balzac, an animal rights activist and a pedestrian. This is all before he makes it to work, where the excruciating prospect of a team-building day awaits, followed by a birthday party for one of Fiona's children.
And all the while he's thinking about dumping Fiona.
Stephen's particular brand of loser will be familiar to readers of Wood's previous novel The Children, which centred on Stephen's war correspondent sister Mandy. Animal People is both a sequel and a stand-alone story, and Wood uses a single day in Stephen's sorry life to explore contemporary issues such as materialism, inequality, urban isolation, terrorism, and the way we think about and interact with animals.
Like its predecessor, Animal People has received stellar reviews across the Tasman. The Age described it as "a compelling and ultimately moving novel that cements Wood's place as one of the most intelligent and compassionate novelists in Australia."
According to the Sydney Morning Herald, "As the novel builds towards its climax, Wood's writing, consistently inventive and tightly crafted, notches up the lyric register and keeps the suspense. A few pages out from the end, I groaned. No, it can't be over yet. When I finished, I wanted to start it all over again."
There's certainly enough gritty humour and clever observation in the first fifty pages to make me want to read on. If you'd care to read with me, click here to enter our reader competition. We have three pairs of Animal People and Bronwyn's December feature read, The House of Silk by Anthony Horowitz, to give away. You'll need to tell us your pick for the best book of 2011, and why. Entries close Friday 9 December 2011.
On Friday, Bronwyn will post her review of Rangatira by Paula Morris.