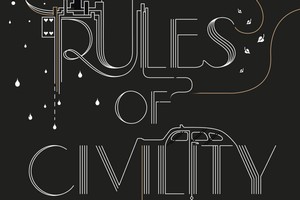 It's a gutsy first-time novelist who writes a book about New York society in the early 20th century. You're just asking to be judged against some of the most celebrated books in American literature - the Great Gatsby, Breakfast at Tiffany's, the House of Mirth ...
Indeed, Amor Towles' debut Rules of Civility - about the best and worst year in the life of Katey Kontent, the hard-working daughter of a Russian immigrant - has invited some pretty hefty comparisons from reviewers, and emerged remarkably unscathed.
Like Breakfast at Tiffany's and the House of Mirth, it tells the story of a glamorous young woman scratching out a living alone in New York, brushing up against high society but never quite belonging to it.
The novel begins with an older Katey wandering around a photography exhibition in 1966. She spots a familiar face in two photographs, taken a year apart. The first, dated 1938, shows a confident and evidently wealthy young banker about town.
The second, dated 1939, shows an unshaven down-and-out in a threadbare coat. Both photos are of a man Katey once loved, Tinker Grey.
With introductions over, the novel transports us back to New Year's Eve, 1937, when Katey and her roommate Eve meet the magnetic Tinker in a near-deserted Greenwich jazz bar. The girls are dateless and trying to make three dollars last the evening; he's been stood up by his brother and begins to buy the drinks.
The meeting will change their lives. A bar conversation between Katey and an old man with whom she's acquainted sets the scene for the year ahead:
"Who's the young man? Yours or your friend's?" he asks.
"A little bit of both, I guess," she replies.
"That doesn't work for long, my slender one."
"Says you."
"Says the sun, the moon and the stars."
Towles might have just had his first novel published, aged 46, but he doesn't fit the image of a lifelong struggling writer. He's a Yale and Stanford graduate with a day job as a principal in a Manhattan investment firm. I'm guessing he's not doing it for the money, but the word is that he received a six-figure advance for the novel all the same.
The book takes its title from a set of 16th century etiquette guidelines to which George Washington adhered - and to which Tinker Grey also subscribes - called the Rules of Civility and Decent Behavior in Company and Conversation.
Example: "Bedew no mans face with your Spittle, by approaching too near him when you Speak."
Rules of Civility (the novel) has attracted largely positive reviews since it was released in late July. A Wall Street Journal reviewer noted that advance reviews had rarely failed to bring up the name of F. Scott Fitzgerald, author of The Great Gatsby: "Who needs such burdensome comparisons? On the evidence of Rules of Civility, being Amor Towles should be plenty good enough."
Says the Guardian: "If you want something original that doesn't borrow at all from Breakfast at Tiffany's, The Great Gatsby or even Boardwalk Empire, you might be a little disappointed. Me, I lapped it all up ... This is a flesh-and-blood tale you believe in, with fabulous period detail. It's all too rare to find a fun, glamorous, semi-literary tale to get lost in."
I'm off to get lost in Rules of Civility. Feel free to join me on the journey as I read and blog about it throughout the month.
Christine's September feature book is The Story of Beautiful Girl, another American novel, by Rachel Simon. Read Christine's introduction to the book here.