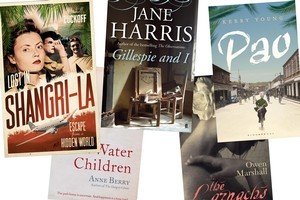 So many books, so little time. Selecting books for Fiction Addiction is a delicious but sometimes difficult task, so this month we sought help by asking you what makes a good book club read.
Books that are riveting, thought-provoking and challenge our preconceptions come top of the Fiction Addiction readers' list.
Beautiful language is also important, as are characters to care about. Victoria Yee looks for "a good plot, charismatic characters and an exotic locale", while Caitlin Bush believes book club reads should "inspire members to share something of themselves: their hopes, fears, or doubts".
Teresa Scott seeks "the ability to have your conscious mind suspended so that you are totally absorbed in the new place, time or emotional landscape".
We've kept your criteria in mind in putting together this Fiction Fix, our monthly round-up of promising new releases.
We're only into the second month of this blog and already we're cheating.
One of the new books we're intrigued about is Lost in Shangri-La: Escape from a Hidden World by American journalism professor Mitchell Zuckoff. It's a Fiction Addiction Contradiction - that is, it's a true story. In our defence, it's a highly improbable tale.
During World War II a US Army plane crashes in uncharted New Guinean jungle. There are three survivors - a badly injured sergeant, a dashing lieutenant, and a beautiful Women's Army Corps corporal. To survive they must rely on their courage and endurance and the mercy of Stone Age tribes who've never had contact with the outside world. It's shaping up as a fascinating yarn, so Bronwyn has dibs on it for her July feature book.
The Larnachs is also based on a true story, though it has been imagined into a novel by accomplished New Zealand writer Owen Marshall. It's about 19th century Dunedin tycoon and politician William Larnach, who is famous for two acts - building the city's landmark Larnach Castle and shooting himself dead at Parliament. To be precise, it's about a love affair between Larnach's third wife, Constance, and his son Douglas.
Reviewer Kelly Ana Morey wrote in the Herald on Sunday: "The Larnachs is a thoughtful, tender love story with ... an awful lot of lovely, restrained writing." There's an extract on www.randomhouse.co.nz. Christine has picked this book as her July feature read.
Back to pure fiction, The Water Children by UK writer Anne Berry documents four damaged people who find each other in London in the 1970s. As they try to escape their past misfortunes they collide, with passionate and violent results. Britain's Daily Mail said: "Anne Berry is a wonderful writer with a poetic imagination and use of language; startling metaphors and images flow effortlessly from line to line and, from page one, the plotting is heart-in-the-mouth stuff. What more could you ask?" There's an extract on www.harpercollins.co.nz.
Tension, unease, psychological twists and dark humour fill the Victorian-style mystery Gillespie and I by Jane Harris. In 1933, elderly Harriet Baxter sits in her London flat, writing a memoir of her friendship with artist Ned Gillespie, which began in the 1880s when she saved his mother's life. The act brought her to the heart of the Gillespie family - and placed her at the centre of a scandalous family tragedy and trial.
Britain's Daily Telegraph described the book as a "subversive chunk of Victoriana, stuffed with incident like a horsehair sofa, and a creepy chortling narrative that rattles along at locomotive speed." Read the first chapter at www.thethoughtfox.co.uk.
Rounding out this month's list is Pao, a debut by Jamaican-born Brit Kerry Young. Yang Pao is a young Chinese immigrant to Jamaica, being groomed to take over the role of "godfather" of Kingston's Chinatown when he falls for a brothel madam under his protection. Their relationship continues after Pao's marriage to the daughter of a wealthy Chinese merchant.
Pao finds himself struggling to save his marriage and defend his dealings in the social and political turmoil of 1960s Jamaica, a backdrop that gives "panoramic depth to this punchy tale of pungent characters and impassioned entanglements" according to the UK's Independent newspaper.