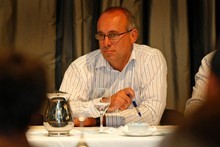 Dairy giant Fonterra is boosting its billion dollar forecast payout to farmers while the weather forces some cows to be dried off.
The farmer co-operative yesterday raised its payout for the 2010/11 season by 30c to $7.30-$7.40 per kg of milksolids before any retentions.
A $7.40 per kg payout based on stable production could be worth about $9.5 billion.
Chairman Sir Henry van der Heyden said the increased forecast milk price reflected continued high international dairy prices further into the season.
The new forecast comprised an increased milk price of $6.90 per kg of milksolids and an unchanged distributable profit of 40-50c a share.
Van der Heyden said while farmers would no doubt welcome news of the higher forecast, they were potentially facing much higher input costs if the dry weather continued.
"It is still early in the season, and some good falls of rain could help a lot, but milk production in the North Island is declining and we know farmers in some regions are struggling," van der Heyden said.
Chief executive Andrew Ferrier said international dairy market prices had generally held up better than initially expected when the company made its opening forecast in May.
Fonterra's online auction on December 1 had been a solid result with average prices 1.5 per cent higher than about a month earlier, Ferrier said.
"This has added to our confidence in the season's outlook," he said.
Federated Farmers Dairy chairman Lachlan McKenzie said he was aware of farmers having to dry off stock due to lack of pasture growth.
"Once dried off a cow won't produce until after they calve," McKenzie said.
Traditional spring calving is in July to August.
"If you're drying them off now where normally you'd go through until April [or] May, that's close to six months' production not there."
The lift in the forecast milk price would give farmers confidence to buy in supplementary feed. "We can only hope summer rain enables us to keep production going well into autumn," McKenzie said.
"Some individuals can be significantly affected, some people only minor at this stage but the longer it goes the bigger the effect."
BNZ economist Doug Steel was expecting about a 2.5 per cent rise in milk production nationally.
"If that comes to be then something like 450 million additional dollars [industry wide would be] coming into the economy," Steel said.
Ferrier said the co-operative was reviewing the potential impact on anticipated production levels from the dry conditions.
Earlier this week he said production was falling below what had been anticipated at this point but there was still time to play out in the season.
Fonterra payout
* 30c increase in milk price forecast reflects strong prices.
* $9.5b potential total payout based on stable production.
* Dry weather is seeing some cows dried off early.
* Weather impact on production levels is under review.
By Owen Hembry

Email

Owen