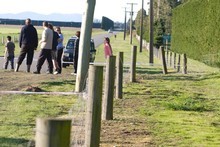 Reports of extensive earthquake damage to Canterbury's farming infrastructure are now coming in, says the Federated Farmers organisation.
"Federated Farmers is now receiving reports of extensive physical damage to farm infrastructure relating to residential homes, pastures, fences, races/tracks, as well as ground water," said Federated Farmers
North Canterbury provincial president Neil Stott.
One call from a member, whose property was on the fault line, described "scarring" up to 100 metres wide running through their property. The land has been pushed up three metres in some spots.
"Of concern are very large ground cracks in other parts rendering it basically unsafe for grazing. We have also received reports of extensive damage to groundwater," said Stott.
Federated Farmers is poised to issue a call for volunteer labour, but is first trying to ascertain where this is and in what quantity.
People who need help are being asked to call 0800 327 646.
Federated Farmers said it had made contact with its affiliated member - Rural Contractors New Zealand. Farmers needing work done on their property have been asked to contact them on 0800 424 266.
Heavy rainfall of up to 200mm fell across the Alpine Divide yesterday.
The major alpine rivers of Canterbury (Rangitata, Rakaia, Waimakariri, Hurunui and Waiau) are expected rise sharply during the day and evening, so people have been asked to keep clear of the beds of these rivers throughout the day.
People have been warned that because of the earthquake damage, they should keep clear of the stopbanks of the Waimakariri River below SH1 and the Kaiapoi stopbanks on the west side in the vicinity of Courtenay Stream and also above the Williams Street Bridge on the south side.
A text alert has been issued to all grain farmers to be on standby, should the weather cause more damage to silos in the affected area.
"The risk is that some silos may appear intact but have been compromised at the foundation or in terms of water tightness," said Stott.
Dairy operations have been challenging, said Stott. but all herds were milking as of Sunday afternoon.
Federated Farmers is receiving offers for off-farm grazing. Anyone who needs this, or can offer assistance have been asked to call 0800 327 646.
Around 3,500 customers are still without power, said Federated Farmers, but the weather was now posing a problem.
"Orion expects more faults to show up in the coming days and weeks due to the network's current fragility. Last evening, its goal was to reduce the numbers of customers without power to 1,000 by this evening, but the weather and new issues makes this challenging.
Farmers should prepare for new power outages due to weather but Federated Farmers applauds the work of Orion staff and contractors."
Federated Farmers is also trying to collate offers of accommodation to accommodate urban residents of Christchurch. Anyone that can offer such assistance is being asked to register that on 0800 327 646 (0800 FARMING).
-HERALD ONLINE