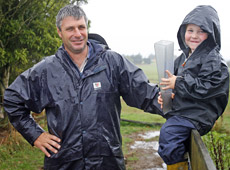 The Waikato drought is over but farmers still have their fingers crossed in the hope that warm air temperatures will continue to help the grass grow.
Waikato Federated Farmers president Stewart Wadey said the 25 to 28 mls of rain overnight would help the situation.
He said the rain fell in a light haze which was perfect.
Mr Wadey said a downpour would have damaged the pastures by washing away the top soil.
Instead Waikato farmers will wake to warm, steady and consistent rainfall, the "perfect" conditions they have yearned for since November.
The rain sweeping across the north of the North Island this week has already saturated Northland, will continue to fall on Auckland today and is set to flood parts of the Bay of Plenty over the next two days.
Hauraki Gulf wind warnings report potential gusts of 45 knots today - down from yesterday's aggressive 52-knot blasts. But despite the wet, the Waikato drought's repercussions will remain for some time yet.
Soil moisture levels in the parched region, in the grip of what has been dubbed a one-in-100-year drought this summer, are about 120mm drier than they should be.
The steady rain should provide about 50mm this week, enough to allow surviving grasses to deepen their roots and begin regenerating.
But it will be about a month before the true benefits of that rain will be seen around the region, Waikato Federated Farmers president Stewart Wadey told the Herald yesterday.
And for the next 10 days the sodden grass will be unpalatable for stock.
"The challenges have only just begun. If you take a bag of potato chips and add lots of water, would you want to eat it? That's what is happening here, the rain is making the grass unpalatable. And it will be like that for about 10 days."
In that time farmers will need to continue using supplementary feed, much of it from outside the region, to keep their stock healthy.
"But geez, it's smiles from ear to ear at the moment. We couldn't wish for anything better."
While farmers had been desperate for rain, how that rain fell was all important, Morrinsville farmer Grant Vercoe said.
A heavy deluge on his 400ha farm, stocked with 450 cattle, 2200 ewes and 1400 lambs, would have been a disaster, he said. With the soil so hard, the water would have collected surface silt and washed it into waterways.
"But this is the best type of rain we can get. I woke up and the ground was wet outside. It was heavy drizzle, consistent all day, and it lets the soil absorb it."
WHO GOT WHAT
Rainfall figures for 24-hour period to 5pm Monday (figures provided by MetService)
Kaikohe 53mm
Whangarei 33mm
Whangaparaoa 21mm
Auckland Airport 16mm
Whitianga 23mm
Tauranga 36mm
Hamilton 14mm
Tiritiri Matangi Island: Gusts of 52 knots (96 km/hour) at 1am yesterday.
TODAY'S OUTLOOK
Northland: Clearer than yesterday, heavy showers at times.
Auckland: Less persistent rain, but the odd heavy shower expected.
Bay of Plenty: Rain, rain, rain - stay indoors.
Waikato: More rain, some in heavy bursts.
Hauraki Gulf: Winds of 35 knots, gusting to 45 knots.
By Craig Borley

Email

Craig