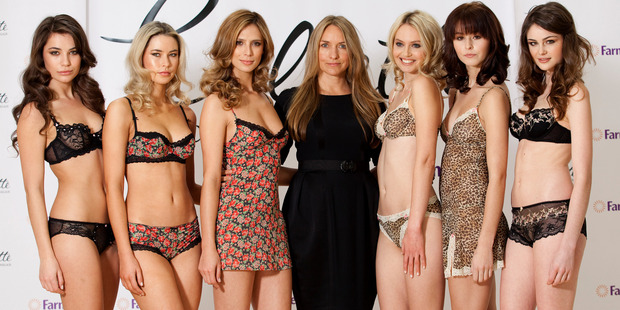 Collette Dinnigan changed the way the world thinks about Australian style and our perception of what is possible on the global stage.
After 24 years in business, the designer most celebrated for her signature lingerie-style evening dresses has announced she is shutting most of her operations to spend more time with family.
Vogue Australia editor-in-chief Edwina McCann says Dinnigan is one of the few Australian designers who has not only forged an international reputation but has run a healthy local business that has schooled fashion graduates.
"It's a huge loss for fashion, it really is," she says.
"I'm sure a lot of people have been through that design room and have learnt a lot of skills there and it is tricky when you don't have places to go as you graduate.
"It's sad when in Australia we lose that sort of design room because it would be nice to think that some of our more talented designers coming out of design school would go and work for Collette and really hone their skills there before they even considered going out on their own.
"I think now a lot of them will probably go overseas."
Dinnigan remains the only Australian designer to be officially recognised by the governing body of French fashion, the Federation Francaise de la Couture du Pret-a-Porter des Couturiers et des Createurs de Mode.
While Australian designers such as Kym Ellery have shown their collections in Paris, Dinnigan remains the only one to have shown on the official Paris schedule, alongside the design houses like Alexander Mc Queen, Yves Saint Laurent and Chanel.
"It's a big deal, Paris is still the home of high fashion," McCann says.
"The idea that an Australian can compete on the world stage I think affects the next generation's perception of what is possible."
Dinnigan grew up in South Africa and travelled with her family across the South Indian Ocean to Australia and New Zealand on a homemade yacht.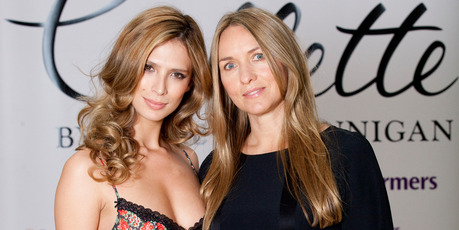 "Her upbringing informed her, in a sense, very international outlook," McCann says.
"She never had a chip on her shoulder about Australia, none of that cultural cringe factor."
McCann says Dinnigan, along with celebrities like Nicole Kidman and Cate Blanchett, have helped changed the way the international fashion world views Australian style.
She remembers doing work experience at American Vogue in the late 1990s when a box of Collette Dinnigan clothes arrived and the fashion features editor remarked on how much she loved the Australian designer's clothes.
"There is that moment when somebody's aesthetic is part of the zeitgeist and they kind of reset the look of the moment," McCann says.
"Collette's lingerie-inspired slip dressing was very of that late 90s moment; it really was one of the things that defined fashion at that time.
"Fashion moves on and aesthetics develop and change but I guess because her point of view was so original she retained her place within a broader market."
McCann says there is no reason why Australian designers Dion Lee and Josh Goot won't attract a similar kind of international recognition that Dinnigan has enjoyed, while brands like Sass & Bide and Zimmermann have the potential to further expand on their overseas successes.
"(But) in terms of that more feminine aesthetic that Collette created I don't think anyone internationally will step up to that level," she says.
Johanna Johnson, who is known particularly for her bridal wear, has recently shown in New York and has a strong following in the UK.
"A lot of (Australian) women will look to Johanna to kind of fill that gap in their wardrobe," McCann says.
Dinnigan will close her boutiques in Sydney, Melbourne and London and stop producing her signature, luxury bridal and evening attire.
She will continue her diffusion line, Collette by Collette Dinnigan, as well as her children's line Collette Dinnigan Enfant and other design deals, as well as eyewear exclusively for Specsavers.
Her publicist Deeta Colvin says Dinnigan is taking a break but may be open to design opportunities involving hotels, homewares and interiors.
McCann, who has visited Dinnigan's homes, says the designer has exceptional taste in interiors and is a wonderful cook.
"I can't imagine Collette not living surrounded by aesthetically beautiful things," she says.
"Undoubtedly I think she will continue to create."
Gallery: Check out some of the designs from Collette Dinnigan's ready-to-wear Spring/Summer 2014 collection shown in Paris this year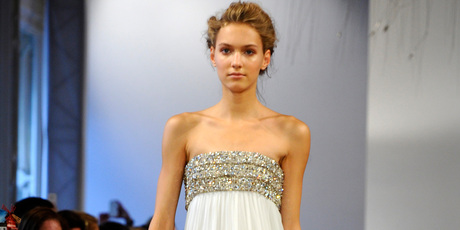 - AAP