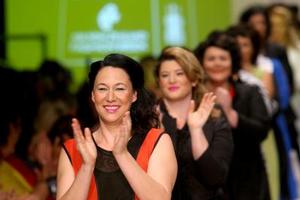 "Turning women into their own best cheerleaders," is the driving vision of plus-size label founder Caroline Mar.
The woman behind The Carpenter's Daughter retail outlets staged Fashion Week's first plus-sized show, using real-women models with an average size of 18.
They strode out confidently, with beaming smiles, to a supportive crowd, including Beatrice Faumuina sitting frontrow. This was what Mar wanted, saying her clients were hard on themselves.
By claiming a place in Fashion Week, a skinny world most felt excluded from, they too could enjoy the feel good factor of dressing up, rather than feeling invisible.
Her three-layer philosophy, interpreted by designer Sarah-Jane Duff in layers of chiffon and tulle had a Victorian inspiration.
First up were women in white, then look-at-me colour, including lime green, hot orange and electric blue layered up with black.
Dove grey was used in tunics and a fitted collarless jacket.
To the tune of Prince's Raspberry Beret, an asymetric raspberry overdress with pleat edge hem stood out.

Scarves were used to good effect, particularly in black and white, and leggings were shown thoughout including a zebra print that said 'don't ignore me, I can wear what I want'.
Plus-sized bling completed the look.
It was fashioned by Sharon Finn of Sharonolier and included giant crystals and beads and a necklace strung with teaspoons.
The goody bag included a cupcake, reflecting the "Let Them Eat Cake" title of the show.
Unlike the other collections being shown this week, this was in-season spring-summer wear. Mar says the main aim of extending her label's involvement with Fashion Week from the public weekend to showing to delegates is to build awareness of the brand, rather than selling ahead.
With a 20-year history, five stores nationwide and a sixth to open in Takapuna the idea was to show that curvy girls could - and should - be seen.
And they will be seen again, with another show planned for Fashion WeekEND on Saturday using the same well-groomed women, including a 70-year-old, drawn from a public model call.
"In times when things are leaner, it's about being abundant because our girls are abundant," Mar said.