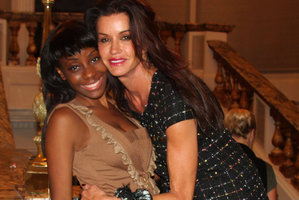 Janice Dickinson has reportedly filed for bankruptcy, claiming she is almost US$1 million in debt.
The 58-year-old one-time supermodel and reality TV star allegedly owes $8,000 to her dermatologist, presumably for the many cosmetic procedures she's had to try and stay looking young.
Dickinson told Radar Online: "I had some trouble, so yes, it is true," adding, "I am upset and taking every step to pay everyone back and I feel terrible about it."
Her tax woes date back more than a decade, with more than $500,000 due to New York state, California and the IRS, the New York Post reported.
Dickinson has been off the radar for a while. After modeling in the 1970s and 80s, declaring herself the "world's first supermodel," she moved on to TV where she used her razor-sharp tongue as a judge on America's Next Top Model.
During her time in the spotlight, Dickinson has insulted Anna Wintour, called Lady Gaga a "f**king idiot" and lashed out at Tyra Banks for being "soulless" and "heartless."
In reply to these acid remarks, fellow Top Model judge and PR maven, Kelly Cutrone called Dickinson "an erratic, unpredictable bitch."
- nzherald.co.nz