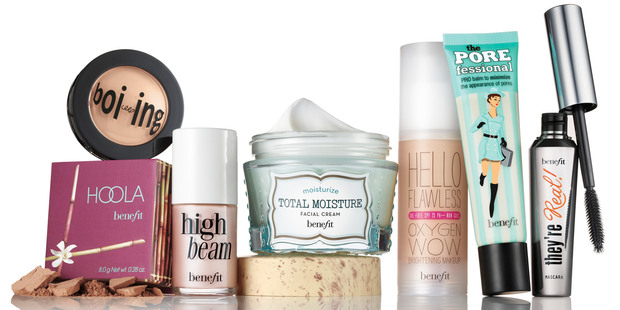 HOW BENEFICIAL
Quirky beauty brand Benefit is coming to New Zealand.
Known for retro-style cardboard packaging and clever face-friendly formulas, the fun Californian brand will make its debut at the end of the month amid the growing shopping selection airside at Auckland International Airport. Familiar brands are offering a number of travel exclusive products there.
In mid-May Benefit will open a counter at Smith & Caughey's Queen St, which will include its famous brow bar services. Later in the year, it will be introduced at Smith & Caughey's Newmarket.
GREAT LENGTHS
Hair extensions are on the rise thanks to improved quality which is allowing them to be used in more subtle ways to add volume in specific areas.
"We don't just make people's hair really long," says Mobeen Bhikoo from Stephen Marr.
That said, weddings and other special occasions are among the most popular reasons people get extensions, with added length the primary reason.
Stephen Marr salons have recently resumed doing hair extensions after giving up on them several years ago. Bhikoo said a new American taped-in brand they had tried impressed enough for them to offer them again. Called Remi, it features fine quality Russian-sourced hair which is cut only from the ponytail down, meaning hair cuticles are aligned, allowing the fine wefts of hair to sit well on the head. It integrates in a less obvious way with the wearer's own hair.
Bhikoo explained that a typical application took an hour. The hair, which comes in 28 shades, can also be highlighted and, after an initial no-wash 48-hour period, it can be treated as normal, including with heat-styling tools, provided direct heat is not applied at the connection site. The glue lasts three months and a solution is then applied to lift it off properly. Extensions can then be reapplied in salon for a second use, giving a total of up to six months' wear, though Bhikoo said the quality meant a further cycle may be possible.
Costs range from $550 for a packet of hair applied with a styling service but, as extension services are customised (and can be localised), ask for a specific quote wherever you go as costs and quality vary. Top-ups at Stephen Marr after three months cost $150 and include a wash and blow dry along with the reapplication.
BIRTHDAY GIRL
It's 20 years since Jean Paul Gaultier's eyecatching Classique fragrance for women was launched and it remains a best-seller. For the occasion, the shapely bottle has been recast in a special commemoration Beauty in a Corset edition and costs $195 for the 100ml eau de toilette. Two years after Classique debuted, JPG's Le Male was similarly groundbreaking. This season the sailor is reclad as Le Beau Male in an edition that plays up the exuberant fragrance's lavender and mint notes. (From Farmers and Life pharmacies.)
CITY SERVICE
Dry & Tea has opened a second blow dry and styling bar with cafe attached in the fast-growing City Works development on Wellesley St. This is similar to Louise Pilkington's stylish Newmarket venture, again with imaginative use of Paul Hartigan's artwork and in-store greenery. A plus is that the salon has added capacity for cut and colour services. dryandtea.com
WAIKATO-BOUND
Hamilton will play host to M.A.C.'s ninth New Zealand counter at Farmers Centre Place from October this year. The cosmetics brand has thus far been available only in Auckland, where there are five stores, and in Wellington, Christchurch and Dunedin. The latest venture is its first with Farmers. M.A.C fans wanting to lend a hand with the company's annual charity fundraiser for Aids, should get to a store soon, with this year's Viva Glam lipsticks and glosses on counter now. Nicki Minaj is the frontwoman for the campaign and her Nicki 2 colour is a new pastel lavender-pink shade.

- VIVA