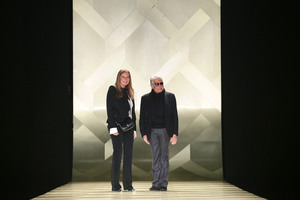 Roberto Cavalli says fashion is changing "for the worse".
The Italian designer believes the industry is less creative now than it used to be.
"Fashion is changing for the worse," the legendary 72-year-old told British newspaper The Observer.
"Today, it is industrial, it is quantity, it is a collection of 1000 pieces. Sometimes I think, in 2050, at Central Saint Martins, what will they teach about us? The only really talented people of our generation were Alexander McQueen and Gianni Versace."
Cavalli says coming up with a construct of who you are as a designer is part of the illusion you create with your fashion.
"As a designer you cannot be too truthful, you would not inspire anybody," he said.
"It is better to make people dream. To them, every night, I go to the discotheque.
Every night, I drink the best champagne. I am never bored, apparently, and that is okay with me."
While Cavalli believes this construct is necessary for his career as a designer, he also says it is the element of his life he likes the least.
"The problem with me is that my life is a little fake. I don't know if some people are my true friends, or if they just like the idea of Roberto Cavalli," he said.
"My real friends are the ones I have had for 50 years, because sometimes I think there are a lot of fake smiles around me. And fake smiles are contagious. They are dangerous, really."
- COVER MEDIA