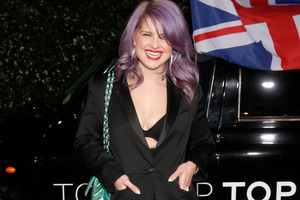 Kelly Osbourne is still critical of her body despite losing about weight.
The Fashion Police presenter, who will write for Australian fashion magazine CLEO each month, continues to feel fat at times and can be hard on herself when feeling vulnerable.
"I'm the most secure and content I've ever been. Though I'm still very self-deprecating: I look in the mirror sometimes and I feel like going back to bed. Everyone has good days, everyone has bad days," she told the May issue of SELF magazine.
Osbourne, 28, says there are still parts on her frame she wants to alter.
However, she stops to remind herself that she has made drastic progress already.
"When you change your body, you start to get selfish. You're like, Oh, but that's still fat and that's still gross and why can't I look like that?" she said.
"To stop myself I have to look at how far I have come. I've learned to eat right and look after myself. Also, I don't weigh myself."
She suffered a seizure in March 2013 while taping her E! television show.
But she continues to work at her figure and maintains a healthy diet plan.
"I've worked hard to get into shape, and I'm going to continue," she said.
"Not because being 'skinny' is important to me, but because I want to feel good."
- COVER MEDIA