Viva's Fashion Features Editor Zoe Walker is in Sydney for Australian Fashion Week. Here's her front row coverage from the show of Kiwi designer, Kate Sylvester.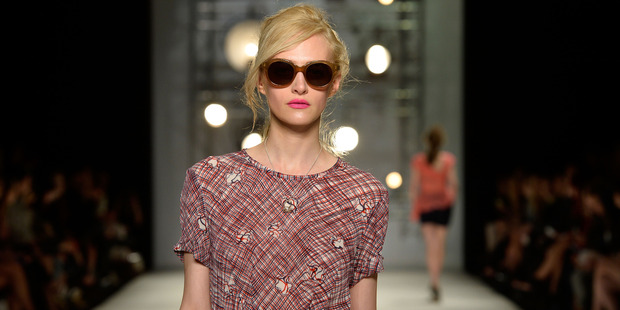 See more Kate Sylvester on the Mercedes-Benz Fashion Week runway
"Not more than fifteen minutes had passed since she'd arrived, and already she had agreed to take her clothes off!" wrote photographer Bert Stern of Marilyn Monroe, pop culture's ultimate good girl gone bad who had posed for his lens in 1962, six weeks before she died.
Now known as The Last Sitting, Stern's intimate series of photos - Monroe nude, romping in a white sheet, playing with a silk scarf, drinking champagne, toying with beaded necklace - are simultaneously erotic, fragile, tragic.
It's those contrasts, the many faces of Marilyn, that drew Kate Sylvester to Stern's images and inspired the spring/summer 2014 collection presented in Sydney on Tuesday at Mercedes-Benz Fashion Week Australia: clothes you would want to keep on.
Like Audrey Hepburn, Marilyn can be a tricky muse, with the potential to be too retro or literal, but Sylvester offered up modern Marilyn's in floaty silk skirts and pleats, feminine and sporty lingerie detailing (a simple black dress with corsetry detail at the bust was a highlight) and shades of innocent white.
Scattered pearls and beading adorned to tops and knitwear hinted at disarray beneath the prettiness, as did a brilliant torn tweed print on silk, while black and white lace hinted at lost innocence.
Sylvester is a sucker for a cute boy and frequently incorporates masculine elements into her ranges: this season via the many men in Marilyn's life, from Joe Dimaggio and baseball - brilliant stitching detail and leather baseball jackets - to Arthur Miller's buttoned up tailoring. As always, great suiting from Sylvester, including a stand out military cropped Eisenhower jacket (according to the show notes, inspired by Marilyn's first husband, policeman James Dougherty).
With her obvious bombshell sex appeal, Marilyn may seem an unexpected muse for Sylvester - who tends to be drawn to a more intellectual woman (or man) for inspiration: past collections have looked to Jane Eyre, the sculptors Christo, misbehaving aristocrats - but she explained after the show that she was drawn to the star's contradictions.
"That's what I've always loved about her: the contradictions and her complexities. She's not an obvious one for me, as she's very 'va-va-voom' - but she's not just that," Sylvester explained, "She was such a cool person, and I guess I wanted to celebrate her coolness."