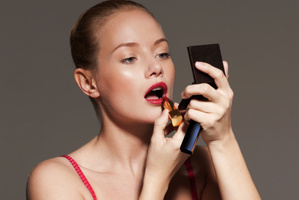 What shade of lipstick does he like? Will he think your eyes look funny with no liner? What if he can see you're wearing foundation and doesn't like it, but then when you don't wear it your skin's all uneven? When he says he likes "the natural look" does he actually mean natural makeup shades, or your real face... and what if he meant the former but you understand the latter, so then you take off all the makeup and he keels over and dies?
In other words, what do men think of your makeup? This question - ugh. It just refuses to die. Ladymags rehash it over and over again - even high brow publications can't resist its pull, although they dress it up first.
Then there's the Daily Mail, last week, with this.
Elegantly titled "Husbands always claim to prefer the natural look so one writer put it to the test and asks: How much make-up do men REALLY prefer?" our writer and subject Annabel Venning gets dollied up in various makeup styles, after which Mr Venning is invited to comment on the new look and issue it a score out of five for "sex appeal".
Of course, the Daily Mail is by now notorious for its conservative take on femininity; misogyny is practically its bread and butter. But that's what makes its pieces so exemplary. Venning clearly suffers from poor body image, for instance, yet the story blatantly jollies along regardless, blathering away about "glam" this and "sultry" that.
Venning's motivation is to avoid showing Mr Venning her non-made up face, now she's "on the threshold of 40". But forget any discussion around the real issue here: a woman's fear her husband won't find her attractive because she's no longer in her 30s. Except you can't! It's almost impossible, thanks to reminders like:
"This is the face my husband gazes at across the pillow every morning. No wonder he leaps out of bed so quickly!"
And: "I would never go to work like this and if I were in a new relationship; I would wake at dawn to stop my new beau bolting for the door. With Guy, I can only hope that love is blind, or at least a little short-sighted."
Poor Mr Venning. No doubt he's been prodded into saying something - anything - to make for a better quote, but the overall effect is horrible. "I've always been a fan of red lipstick, but now I can see it does make her mouth seem thinner," he says, of look number 4, "Red Carpet Dazzle".
To be clear: it's normal and fine to want your boyfriend or husband to like your look, find your lipstick pretty, or marvel at your mod eyeliner. (Trick: use cellotape.)
But I for one don't want or need to come across these banal stories every few weeks. I doubt many women do. It's an insidious reminder that when it comes to beauty, women are still up on stage and men still on the judging panel. We know this already. It's boooooring and harmful. Could somebody please change the script and put Mr Venning up on stage for once?
Follow Rebecca Kamm on Twitter.