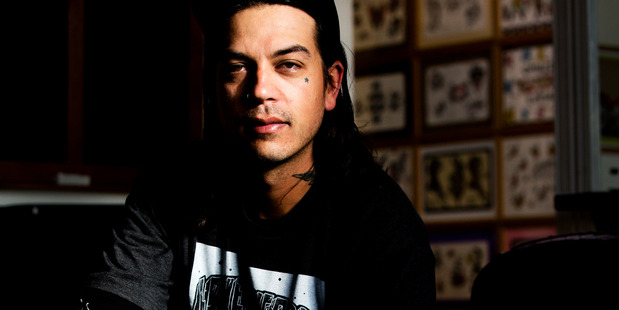 In one room, the whirr of the tattoo needle, in another the calm and conversation of an old-school barbershop, and lining the walls, framed pieces of tattoo flash - tattoo designs hand painted on to sheets of paper and displayed for customers to choose from, their own unique kind of artwork.
Flash City is tattoo artist Stefan Sinclair's latest venture, a pop-up barbershop and flash-only tattoo parlour located next door to his other business, Two Hands Tattoo, where the tattoos are custom only. At Flash City, guest artists will be in residence - top artist Bert Krak from New York has been in studio this week - while the barbershop offers $25 classic cuts, wet shaves, and filter coffee from Supreme.
Add the space to Sinclair's growing creative empire: in addition to his parlours, he has lent his unique illustrative talents to various local fashion designers, from scarves for Deadly Ponies to nautical-inspired Zoe and Morgan rings.
He also works closely with Lonely Hearts, an ongoing collaboration: he has worked on prints for the next few seasons, including creepy cute T-shirt prints for winter, like the "Toxic Girl" he wears here - the T-shirt as a canvas, for those who may not want to use their body.
• Stefan, photographed in his new barber hop and tattoo parlour Flash City, 125a Ponsonby Rd, ph (09) 376 6999, wears a Lonely Hearts T-shirt, $99, over a Lonely Hearts long-sleeve tee, $125, featuring his prints. Stockists ph (09) 488 8007.
- VIVA