Sniff out these fragrant new selections for true romantics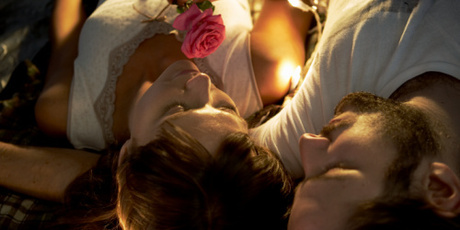 Valentine's Day is traditionally the day to say it with scent, be it in a bouquet or a bottle. Fragrance lasts longer in perfume form than in petals so why not indulge yourself or spoil your loved one?
For matchy-matchy couples there are plenty of his and hers fragrances to choose from, with a sampling of new ones on show today. These don't mean you will end up smelling the same, although the fragrances usually draw on similar notes, but the bottle designs do make for a complementary display in the bathroom or bedroom. How cosy is that?
CK One Shock for Her and Him, 50ml eau de toilette - $65
Mine the neon trend with the latest Calvin Klein fragrances, which come in fluoro packaging with a jolt of coloured lettering on the simple CK One flacon. The scents are fruitier, warmer variations on the classic fresh spritz which has sold its socks off since 1994. (From department stores and selected pharmacies.)
L'eau par Kenzo Colors edition for Him and Her, 50ml eau de toilette - $98
Kenzo wanted to inject happy colour into clear water so he did it with the bright bottle design and by spiking his signature scent with fresh, fruity notes for her and fresh spicy, woody ones for him.
(Exclusive to department stores.)
Thomas Sabo Glam'n Soul eau de parfum for women and Rebel at Heart eau de toilette for men - $129 each
These new eau de toilettes from the Sabo jewellery design house come in beautifully detailed globes and are warm and sensual - the women's is fruity floral and the men's has a spicy accord. (From selected jewellery stores, for stockists see thomassabo.com.)
By Janetta Mackay

Email

Janetta