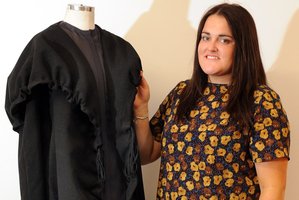 From the high of winning an Australasian fashion competition, an Otago designer is fighting to receive her $12,500 prize money.
Otago Polytechnic student Emily Scott won the Australian Graduates Fashion Week contest in Sydney last November. Promised prizes included A$10,000 ($12,500) cash, a A$5000 website, a spread in Cielo magazine and cosmetics and accessories gift pack.
The 21-year-old designer is yet to see any of the prizes.
However, after inquiries, event organiser Elmedin Kumalic got in touch with Otago Polytechnic to say the money would be in her account between Monday and Wednesday next week. Before yesterday, Ms Scott said she had heard from Mr Kumalic only once.
"I'd been trying to call him pretty much every day and he got back to me once, which is kind of ridiculous," she said. "It's A$10,000 that has been kind of taken away from me.
The whole thing was such an excitement. I've never won a massive thing before and I'd never been recognised before really so to be awarded this prize, I was pretty overwhelmed.
"So for it to all turn out so terribly is pretty disheartening."
She said Mr Kumalic originally told her the money would be through before Christmas, then by mid-January and finally by January 23.
"However, there's still no sign of it. I'm really disappointed."
Mr Kumalic said the money could not be cleared before now because the competition had been registered as an Australian one. It had been in the competition's account since November and was now on its way.
Cielo editor Dimitri Frost said he had been overseas for work and unable to arrange the spread which was part of the prize. However, he would feature Ms Scott's work as promised.
After APNZ made contact with Mr Frost, he phoned Ms Scott to relay the good news.
"That's all sorted hopefully now, so hopefully that comes together nicely," Ms Scott said.
The event website said it was "Australia's newest fashion event" sparked by a team of creatives to ensure future designers had an arena to showcase their work.
"100 students from institutions from around Australia and New Zealand will be chosen to showcase their designs for the chance to receive $10,000 to kick start their career, along with other major prizes," the website said.
- APNZ