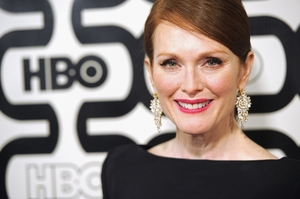 US actress Julianne Moore believes that whichever way you look at getting older "wrinkles are not funny".
The 52-year-old says she has slowly started to accept they are a part of life.
"[How do I cope with wrinkles?] I am thinking about a witty answer to that. Like, 'I apply something with a spatula'. But wrinkles are not funny, they just come," Moore told German magazine Brigitte.
"You have to accept and embrace wrinkles. At least that is how I've decided to think about them."
The star says she is quite comfortable with her age, and that she doesn't want to use Botox to change her appearance as it will impact on her acting work.
"Obviously I want to look good but it has to be age-appropriate," she said. "It is important to me to be as expressional as possible with my face. I am no longer playing someone who's 30 so I don't have to look like it."
Moore, who won a Golden Globe for her performance in the mini-series Game Change, will play a religious fanatic in the remake of Stephen King's movie Carrie.
She says she looks so horrendous in character for the part, that she can only laugh at her appearance.
"Gosh, I look pretty awful in that movie. In front of the camera I have no vanity," she said.
"It's fun to play a character as well as possible."

- COVER MEDIA