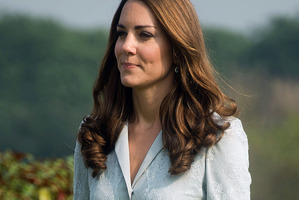 As Prince William's much-admired wife celebrates her 31st birthday, the keys to Catherine's fashion stardom have been compiled by a British magazine.
Style bible Vogue reports in its latest edition that "the world has become mesmerised" by the fashions of the now pregnant Duchess of Cambridge since she joined the royal family in April 2011.
Dresses sell-out within hours of Catherine wearing them, while salons are bombarded with requests to match her brunette blow-dry curls, reads an article in the glossy publication.
To mark her birthday on Wednesday, Vogue has taken a look at 100 of Catherine's public outfits, some dating back to before her engagement to William, and come up with some statistics.
In summary, the results show that to be a true copy Kate, one should wear blue, carry a clutch bag with both hands, and tilt hats to the right at 50 degrees.
After examining 100 outfits, UK Vogue produced this snapshot of Catherine, the Duchess of Cambridge.
Top five designers: LK Bennett (28), Alexander McQueen (14), Temperley (eight), Zara (seven), Adidas (seven).
Top five colours: blue (24 per cent), Red (13 per cent), white (12 per cent), grey (11 per cent), purple (nine per cent)
Favoured shoes: LK Bennett sledge heels in nude
Hats: tilted to the right at a 50-degree angle.
Bag: a clutch mostly carried with both hands, measuring an average 194x132mm.
Hair: glossy blow dry (73.4 per cent), half-up and half-down (13.6 per cent), naturally loose/ponytail (6.5 per cent).
Source: UK Vogue and Daily Mail.
- AAP