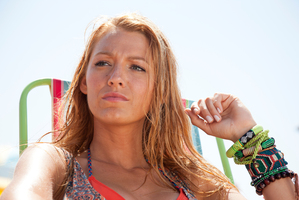 Blake Lively has revealed how The Wizard of Oz inspired Christian Louboutin to name a pair of shoes after her.
The actress visited the famous footwear creator in Paris and fell in love with one particular pair of shoes she saw in his workshop, as they reminded her of her favourite film.
"Christian Louboutin named a pair of shoes after me. I was in his atelier in Paris after going to the couture shows for the first time and I saw these shoes. I told him they were the most beautiful things I'd seen in my entire life," Blake has told the British edition of ELLE magazine.
"The colours reminded me of The Wizard of Oz, my favourite movie. He pulled out a marker pen, wrote my name on them and told me they would be named after me."
Lively also discussed how important fragrance is in her life.
"My new fragrance obsession is Gucci Premiere. I'm always mixing colognes and perfumes because I like the blend of masculine and feminine," Blake said.
"But this fragrance with its woody notes, leather, citrus and florals strikes the perfect balance."
- COVER MEDIA