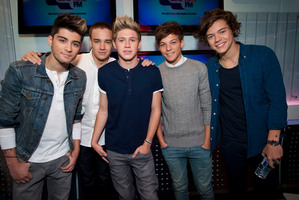 Boy band One Direction will release a debut signature fragrance as they enjoy soaring success.
The pop sensations, who have sold more than 17 million records globally, will launch the scent as the first in a collection of One Direction fragrances.
"As a band, we have been discussing making a fragrance for our fans for quite a while so we're really excited to finally have this opportunity," bandmember Niall Horan said.
"We've been working away on this and we're very proud of the way it has turned out - we really can't wait to hear what our fans think."
The boys' latest venture will see them joining celebs with signature scents like Britney Spears, Taylor Swift, Lady Gaga, Jennifer Lopez and fellow X Factor success Cher Lloyd.
"The band are incredibly passionate about this project and have been closely involved in the creation of the scent, the packaging and bottle design and the name itself," their manager, Will Bloomfield, said.
"The name of the fragrance is still confidential, but more news will be revealed in early 2013."
One Direction, nicknamed 1D by fans, are enjoying huge fame as their album Take Me Home reached No.1 in 36 countries, making it their second No.1 album this year.
They have become an international force, winning a BRIT Award, three Teen Choice awards, three EMAs and three MTV Video Music Awards all this year.
Their videos have been watched nearly 700 million times on VEVO, they have more than 11 million followers on Facebook and more than eight million Twitter followers.
- PAA