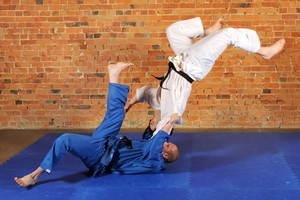 AgResearch showed off its ground-breaking fabrics at Fashion Week today, highlighting that the trade event is about more than champagne and schmoozing.
The state-owned research institute AgResearch promised "an exciting future for New Zealand wool" if commercial partners can be found to bring its four new high-performance fabrics to market.
Innovations include the ability to dye fabrics in dramatic and brighter ways and to produce wool with anti-odour, anti-bacterial qualities that require less frequent laundering. Environmental sustainability is another selling point.
"We hope through Fashion Week we can get partners who make these fabrics a reality," said textile scientist Stewart Collie.
AgResearch wants to licence the technology it has developed to apparel and textile manufacturers here and overseas to provide more value-added opportunities for New Zealand wool growers.
The Lincoln-based research team's fabrics are merino, or merino-rich, but some have been twinned with synthetic fibres for added durability. One of these fabrics, called Fortitude, is already in production for martial arts clothing, replacing heavier, less absorbent cotton cloth with a more comfortable wool-mix stretch.
Dunedin-based company Gimono has been developing Fortitude for five years, and commissioned AgResearch to come up with a comfortable alternative to the cumbersome gi or wrap-style uniform fighters wear.
The couple behind the company has put more than $500,000 into getting the product ready for sale and has high hopes it will take off internationally.
It's a third of the weight and absorbs moisture better than the traditional heavy cotton cloth and will cost less.
The idea for Fortitude came out of discomfort, with black-belt judo exponent Grant Scott and his partner Lavinia Calvert deciding they could come up with something better. They plan to target the growing number of mixed martial arts enthusiasts who mostly buy their uniforms online.
"There's no reason the modern merino fabrics can't make it into a whole range of sports applications - maybe even a rugby jersey," Collie said.
On Thursday the fabrics will be shown on the runway, with 10 top designers having shaped them into high-fashion garments. One of those designers Kylee Davis of Stitch Ministry said she would put the the eye-catching fabrics in her production straight away if they were available commercially Theresa Brady of Sable & Minx said she was particularly impressed with a fine merino with a dense knit that held its shape remarkably well.
It's the second time AgResearch has showed its work at Fashion Week. Two years ago it came up with other easy care and stretch fabrics, including a machine-washable man's suit. Some of this work is now commercialised, though progress on getting stab and flame resistant fabrics to market is ongoing.