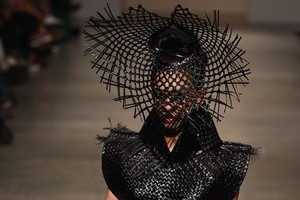 You always go to emerging designer collection shows with your heart in your mouth: will it feel like the art school graduation show, too clever for its own good? Wearable arts and crafts?
Fortunately Miromoda has figured that this is not what Fashion Week is about and so runs a scrupulous judge-and-jury process to select the designers who show. So today's show of six capsule collections was tight and interesting.
Adrienne Whitewood, this year's winner (and second place getter last year), has nailed a collection which is both intellectual and wearable. Called Te Aho Tapu (the sacred thread), her linen, leather and plaid pieces dug into her Rongowhakaata (East Coast) people's story.
The sweeping maxi skirt, twisted and draped linen pants and wrapped coats echo how early Maori and colonial settlers adapted each others' clothes and styles.
Sharp leather t-shirts are Whitewood's take on the dog-skins, linen and merino mix local flax with introduced wool. She is selling from a website only, but smart retailers should be beating a path to her door to order up large.
Aroha Tapsell's tiny, bright collection of colour blocked wool was architectural and well cut, with a particularly covetable princess coat opening the show.
Cool graphic print t-shirts from Kereama Taepa's Urban Maori overlays digital technology on the story of Rangi and Papa - pleeeease can somebody grab this label and knock the poor over-worked koru into a grave.
Tara Warren's nostalgic knitwear for men somehow gave a modern twist to stripes and zig zags (but why did I keep thinking It's father's Day on Sunday?)
Dmonic Intent veered from aggressive pixie territory, particularly the sharp and futuristic The Alchemist collection.
The first pieces they sent out - dubbed Black Sheep - had more structure and originality.
The chunky knitted collars have been in nearly every one's collections this year: time to break out the broomstick-needles and start knitting.
And while Shona Tawhia's woven flax pieces are extraordinary craftsmanship, they do not belong in a runway show which is pushing new markets and sales for emerging designers - although no doubt museum collectors are queuing up.