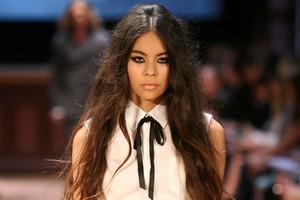 The majestic Auckland Town Hall provided the perfect backdrop for Workshop and Helen Cherry's return to the NZFW schedule, with their previous Fashion Week outing back in 2005.
An iconic heritage building for two iconic local labels that have both built a loyal following with their customers, the show was one of a handful this week that took production to an international level.
Organ music welcomed guests as they took their seats with serene lighting, providing a small moment of retreat for many of the local media who have been working around the clock (and the tight schedule).
Opening the show with Workshop, the women's wear collection highlighted a contemporary take on 1950s rock and roll with luxe leather jackets, pants and dresses taking to the runway.
One particular sleeveless leather dress stood out, with the front half entirely leather and the back half in wool; and a range of baby cord cropped biker jeans and boy shorts in a coloured palette of sapphire, ruby and anthracite grey.
Camo print also featured in the menswear, touching on the brand's utilitarian heritage and what the Workshop brand is renowned for - workwear, clean lines and premium denim.
A wool pinstripe suit stood out, as did a grey wool blazer with leather sleeves - slick, modern and an added dose of luxe for the Workshop man.
The brand is also one of the local pioneers of designer/artist collaborations, continuing next season with Max Gimblett, whose skull and quatrefoil prints made an impact on selected garments.
With new collaborations between Chris and Helen Cherry, Emma Kidd, Meagan Curran and Enuake Sirikige, the collection highlights the fact that the Workshop DNA is alive and well.
OUR ONE-WORD REVIEW: Badass.
Helen Cherry
Helen Cherry has cultivated certain type of woman over the years, and tonight's collection only re-enforced that ideal of a well-bred, sophisticated woman.
The first exit was arguably one of the best outfits from the entire week- a grey mohair knit top with tailored pants topped off with a black fedora hat (seen on all the models) and large crystal pendants.
Styled by London-based stylist and former editor of Harpers Bazaar Australia and current European editor at large of Russh, Jamie Huckbody's experience and knowledge of the brand (he has worked with Cherry on her seasonal campaigns for about 10 years) was evident, with models looking effortlessly expensive.
Signature leopard prints also made a return, updated on silk blouses and worn with fitted pencil skirts, the ultimate Helen Cherry silhouette. A red cropped wool jacket made a striking impact, as did the cashmere-wool biker jackets and a collarless fur coat only added to the luxe appeal of the collection.
It's the kind of clothes women with a strong sense of identity look good in without falling into the superfluous rhythms of fast fashion - refined, well-bred and one of the few labels this week that pushed the agenda of a wardrobe that can actually stand the test of time.
OUR ONE-WORD REVIEW: Luxury.